Montague named Staunton teacher of the year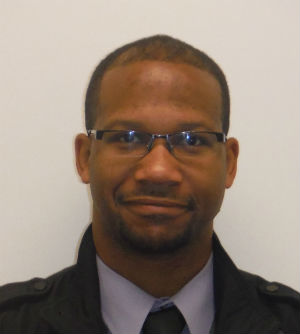 Staunton City Schools has honored as its 2018 Teacher of the Year Donte' Montague, a fourth-grade teacher at A.R. Ware Elementary School.
Teachers were selected and voted on by their colleagues as school-level teachers of the year before a committee selected one of the representatives as the final division teacher of the year.
The committee used the following criteria outlined by the state:
Is an expert in their field who guides students of all backgrounds and abilities to achieve excellence
Collaborates with colleagues, students, and families to create a school culture of respect and success
Deliberately connects the classroom and key stakeholders to foster a strong community at large
Demonstrates leadership and innovation that embodies lifelong learning
Expresses themselves in an engaging and articulate way
"Mr. Montague exceeds all of these traits," said Executive Director of Instruction, Stephanie Haskins. "A love of learning, continued growth, and positive energy are evident in all that he pursues. He brings energy, enthusiasm, and a positive belief that are contagious! We are proud to call him our 2018 Teacher of the Year."
While he did not start his career in education, Montague said he was drawn to it later in life as he wanted to make a positive difference and serve as a role model for young people. Montague has done just that during his service these past four years as a fourth-grade teacher at A.R. Ware Elementary School. The attributes that Staunton City Schools hopes to instill in its students – critical thinking, creative thinking, collaboration, communication, and citizenship – are modeled and practiced daily. For example, Montague is a natural at getting his students to talk about the characters within a text, clues they notice, and the choices they are making – leading his students to make similarly thoughtful decisions in life and making a difference in far more than reading.
While at Ware Elementary School, he has exceeded state averages on state assessments for his fourth-grade students and has initiated new clubs to energize and motivate students beyond academics, including a sign language club and a school running and fitness club. He is constantly seeking knowledge through professional learning, through attendance at such events as Code.org, Nature Journaling, Google Summit and National Mathematics Conference. He has also served an active role on both school and division committees, such as School Improvement Team, SCS Equity Team and SCS Vision Committee.
Superintendent Garett Smith summarized Mr. Montague's work as a teacher: "Perhaps the best referendum on Mr. Montague's performance took place when we came into his classroom to announce to his students that he had been selected as Division Teacher of the Year. Cheers exploded, and students could not wait to jump into a photo opportunity with their beloved teacher.
Comments