Missing banners don't define Tony Bennett, Virginia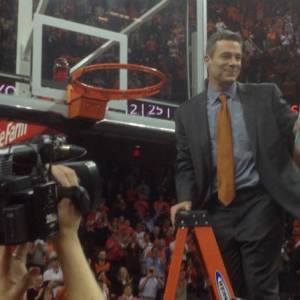 The Virginia basketball team is likely not going to finish 18-0 in the ACC. Odds are that the 'Hoos won't be ranked #1 in the regular season. Villanova is too good right now, and UVA has tough road games at Florida State and Miami in the next week.
The deck is also stacked against the Cavaliers when it comes to winning a national title in 2018. No question the orange and blue is among the favorites, but, hey, a lot can happen over the three weekends of the NCAA Tournament, and always does.
I say all this to make a nuanced point: that none of this not happening, not going 18-0 in the ACC, not getting to #1 in the regular season, not winning a national title, is what the stupid idiots on Twitter say it is.
I've had a few not-at-all-fun slapfests on Twitter with detractors whose main push is, derr, herr, Tony Bennett teams don't win when it matters.
No amount of me pointing out that Bennett is in year nine at Virginia, that it took Coach K 11 years to win a title at Duke, that it took Dean Smith 22 years to win one at UNC, shuts the stupid idiots up.
The stupid idiots are also adept, as you well know, at whining about how Bennett's Virginia teams are bad for basketball, because points.
We can talk about the wonder of five guys playing 30 seconds of defense 60 times a night, about stat lines like 19 assists on 23 made baskets in the win at Syracuse being the way the game is supposed to be played, all we want.
Look, fact is, yeah, points, wins, titles, banners, sure, got it.
I'll say it this way: if you were to visit me right now from 20 years in the future and tell me that Tony Bennett was still the coach at UVA, that his program was a perennial top-five team, that it consistently led the country in defense and fewest possessions per game, that it produced a slew of NBA talents alongside a bigger slew of guys with master's degrees making the world a better place after their time on the hardwood came to an end, and, bad news, no national titles, I'd take that and not bat an eye.
I'm not one who thinks sports isn't about wins and losses, incidentally. Big-time college basketball is a business. That's why TV networks pay billions for the right to broadcast the games, why coaches make millions to try to win them, why we all pay so much to be able to watch.
I happen to think that Bennett will put Virginia basketball into a position to win not one, but multiple, championships before he's done. He recruits talented young men, and he and his staff are as good as anybody in getting them to learn and execute intricate systems on both ends of the floor.
The Pack Line, mover-blocker, the five pillars, all guarantee that Virginia will be a player on the national scene for years to come.
Championships are a barometer, sure, but not exactly the fairest. Gene Chizik, for instance, has a national title as a football coach, at Auburn, but nobody would suggest that Chizik was a better coach than Virginia Tech's Frank Beamer. Or that UConn basketball coach Kevin Ollie is better than, well, insert the names of any of several dozen coaches here.
I'd rather have Beamer than Chizik, rather have Bennett than Ollie, would rather win the way Tony does at Virginia, with kids who go to school for four years, sometimes five.
A championship on top of all this would be icing on the cake, is what I'm trying to say.
Story by Chris Graham