Men's basketball: Liberty drops first conference game to UNC Asheville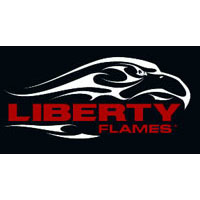 The Liberty men's basketball team dropped its first Big South Conference game of the season in its league home opener to UNC Asheville on Tuesday night.
Ryan Kemrite reached 600 career points against the Bulldogs (10-4, 2-1 BSC) as he led the Flames with 17 points, but the Flames fell to UNCA, 70-57, to drop to 7-9 overall and 2-1 in the Big South.
"Give credit to Asheville tonight because they played well, but we can't dig ourselves a big hole against a good team," Liberty Head Coach Ritchie McKay said. "It is hard to come back from a big deficit and we can because we have great character but we had nine assists and 11 turnovers. We have to be able to move the ball around."
The Flames went into the game with the task of having to stop one of the Big South's top players in Ahmad Thomas, who was averaging 16 points per game and shooting 51.9 percent from the floor. Liberty played exceptional defense on Thomas, limiting him to score 10 points off just 36.6 percent shooting (4-of-11), his lowest performance of the season, but the Bulldogs looked to an unknown threat in David Robertson as he scored a game-high 20 points.
The Bulldogs got off to a hot start, making four of their first five field goal attempts to jump out to an early 11-6 lead. It didn't take long for Kemrite to reach the 600-point milestone as he made his first shot attempt in the game at 16:29mark. Kemrite's three gave him 602 points in his career. UNC Asheville continued to stay hot on offense early in the half as Robertson scored a quick nine points in the first four minutes of the game.
Lovell Cabbil responded Robertson's offense outburst with one of his own scoring seven points in eight minutes to bring the Flames within three points (16-13). Both teams hit a dry spell on offense with only four points being scoredin four minutes, all by UNC Asheville. Liberty went cold without scoring a field goal over a four-minute span as UNCA extended its lead 29-18.
The Bulldogs capitalized off the Flames' turnovers, forcing six turnovers and converted that into 10 points in the first half while Liberty only scored two points off the Bulldog's six turnovers. During the last three minutes of the half, Liberty closed out on a 7-2 run to go into halftime trailing the Bulldogs 36-25. UNC Asheville's bench dominated Liberty's bench in the first 20 minutes outscoring the Flames, 12-0.
The Flames opened up the second half with exceptional defense, allowing just two points in the first five minutes but were unable to capitalize on the offensive end with only four points of their own.
Kemrite continued to provide instant offense with nine points in the first eight minutes of the second half. Liberty cut UNC Asheville's lead single-digits multiple times but the Bulldog's were able to respond with three pointers to continue holding an 11-point lead early in the second half. Liberty was able to cut UNCA's lead to seven (51-44) with nine minutes left in the game after a pair of John Dawson free throws. As they continued to keep Liberty an arm's distance away, the Bulldogs went on a 6-0 run over three minutes to hold a 61-44 lead.
The Flames shot 45.8 percent in the second half, jumping to 42.0 percent (21-of-50) for the game with three players ending in double-figures in Kemrite (17), Dawson (15) and Cabbil (14). UNC Asheville's bench ended up outscoring Liberty's bench 20-0 throughout the game as they were able to pull away at the end for the victory.
Liberty will return to action on Saturday at the Vines Center at 2 p.m. against Campbell.
Comments