McAuliffe statement on legislative veto session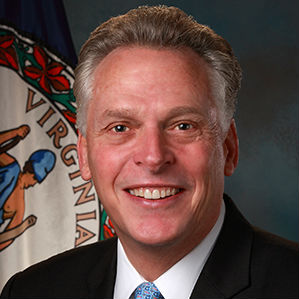 Governor Terry McAuliffe released the following statement after the General Assembly voted to uphold 24 of the vetoes and 89 percent of the amended bills they considered during the 2016 reconvened session.
The Governor vetoed a total of 32 bills throughout the 2016 legislative session, none of which were overturned:
"When this session began, I asked the General Assembly to work with me to pass legislation that will contribute to our ongoing efforts to build a stronger, new Virginia economy in every corner of our Commonwealth.  We worked together to make record investments in public education, to reach historic agreements on transportation and gun safety, and to achieve significant progress on a number of other issues that are important to Virginians' lives.
"While there is no question that this session was marked far more by compromise and accomplishment than by partisan conflict, there are some areas on which Republicans in the General Assembly and I disagreed. The vetoes I submitted to the legislature for their consideration today honored the promise I made in the State of the Commonwealth to reject legislation that divides Virginians, makes them less safe, or sends a negative message about the climate we offer to families or businesses that may want to locate here.  The controversies we are watching in other states underscore the need to reject legislation that divides or distracts us from the work Virginians elected us to do.
"I am proud that the General Assembly did not override any of the 32 vetoes we submitted this year, or any of the 68 I have submitted throughout my tenure to date.
"I also want to thank the General Assembly for considering 45 bills I amended and accepting all of my amendments to 40 of them, including the bond bill and the Go Virginia bill. With respect to the state budget, I did not heavily amend the bill submitted to me because it largely reflected the priorities I included in the version I introduced – however the General Assembly still accepted 57% of the amendments I submitted for their consideration today.
"I admire the thoughtful and vigorous discussion that members of both parties engaged in with respect to the amendments I submitted to legislation regarding the future of the death penalty in Virginia. My amendments offered legislators a choice between a practical approach to moving forward with Virginia's death penalty law or a moratorium on executions in our Commonwealth. Their final decision will allow the Virginia Department of Corrections to continue to enforce the law without resorting to barbaric measures like the electric chair.
"The 2016 legislative session will be remembered for the historic progress we made on education, transportation, public safety, support for veterans and a range of other issues that matter to Virginia families. As my team and I prepare for our final review of the actions taken by the General Assembly today, I want to thank all of my colleagues in the legislative branch for working with me on the agenda I proposed at the beginning of this session and contributing significantly to the work we are doing to create jobs, strengthen our communities and lay a foundation for a stronger new Virginia economy."
Comments