McAuliffe announces $978,559 in Virginia telecommunication grants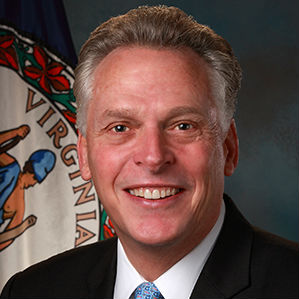 Governor Terry McAuliffe announced $978,559 in grants through the Virginia Telecommunication Initiative (VATI) for the counties of Albemarle, Culpeper, Mecklenburg, and Spotsylvania. The VATI program provides funding for communities partnering with private sector providers to extend broadband access to unserved areas of the Commonwealth.
"High-quality internet connectivity is one of the most critical tools for communities to grow, diversify, and build a new Virginia economy," said Governor McAuliffe. "I am pleased to announce these Virginia Telecommunications Grants. Providing adequate telecommunications in a community is essential for educating our children, residents, and workforce, attracting businesses, improving medical services, and providing a better quality of life for all Virginians."
The VATI program is a state-funded program administered by the Virginia Department of Housing and Community Development (DHCD). The goal of VATI is to create strong, competitive communities throughout the Commonwealth by preparing those communities to build, utilize, and capitalize on telecommunications infrastructure. Consistent with the current budget authorization, DHCD annually awards $1 million to eligible applicants to provide 'last-mile' services to unserved areas of Virginia. This is the second grant announcement from this new program.
"Today's announcement is an excellent example of the great work that can be realized by bringing together local governments and private service providers to ensure quick, reliable and affordable internet access to unserved areas of the Commonwealth," said Secretary of Commerce and Trade Todd P. Haymore. "The Virginia Telecommunication Initiative is helping to develop the telecommunications infrastructure necessary to prosper in a global economy and I congratulate Albemarle, Culpeper, Mecklenburg, and Spotsylvania counties on receiving these grants to strengthen their broadband efforts."
Projects were selected through a competitive process evaluating each project for demonstrated need and benefit for the community, applicant readiness and capacity, and the cost and leverage of the proposed project. The level of funding awarded is based on the infrastructure needs in the project areas.
An estimated 820 households, nine businesses and one community anchor will have broadband service available thanks to the grant awards announced today and the public-private partnership involved in each project. Twelve applications totaling more than $2.8 million in funding were received.
The following projects were awarded funding through the 2018 Virginia Telecommunication Initiative program:
2018 Virginia Telecommunication Initiative Grants
| | | | |
| --- | --- | --- | --- |
| Applicant | Co-Applicant | Project Name | Award |
| Albemarle County | Comcast | Albemarle Comcast VATI 2018 | $473,366 |
| Culpeper County | Virginia Broadband | Culpeper County Rural Broadband Expansion | $120,800 |
| Mecklenburg County | Buggs Island Telephone | BIT Fiber Project | $217,173 |
| Spotsylvania County | Comcast | Spotsylvania County and Comcast FY18 VATI Application for Towles Mill Road | $167,260 |
| Total |   |   | $978,599 |