Matt Pita powers VMI to series win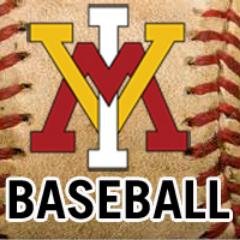 Matt Pita ran his hitting streak to 21 straight games in a big way Sunday, going 5 for 6 with two home runs to power the VMI Keydets to an 11-8 win over the Oakland Golden Grizzlies at Gray-Minor Stadium in Lexington. The victory gave VMI a series win, two games to one.
Pita had scored twice, driven in three runs and hit a home run by the end of the third inning Sunday, as VMI (7-4) jumped out to an early 7-0 lead. Oakland (2-9) scored three times in the fifth, knocking Keydet starter Kyle Staats from the game, but Pita started a three-run rally in the bottom of the frame with his second homer.
Oakland would get no closer than four until the ninth inning, when Mike McGee doubled home a run to account for the final margin. Pinch-hitter Jordan Jackson followed with a single, bringing Thomas Miller to the plate as the tying run, but Miller bounced to third base. Josh Hollifield made a nice play to his backhand side and threw to second for a force play. McGee broke for the plate on the throw, but Michael Diodato's peg home was in plenty of time to get McGee and end the ballgame on the unconventional play.
VMI took a 10-3 lead to the sixth after Pita's second homer of the day, but Oakland scored five of the game's last six runs to make things interesting late. Pita did have one at-bat to become only the fourth VMI player ever to record six hits in a game, but flew out to right field in the bottom of the eighth to end his day. He still went 5 for 6 with four RBI, four runs scored and three stolen bases, and is 11 for 19 with nine runs scored and 10 RBI over his past four games.
In addition to Pita, Jacob Jaye reached base in all five of his plate appearances, while Jake Huggins and Peyton Maddox added two hits apiece as well.
The Keydets tied a school record for walks received, as Oakland issued 13 free passes on the afternoon. It was the fifth time in school history VMI's offense had earned 13 bases-on-balls in a game.
McGee went 3 for 4 to lead the visitors.
On the mound, Conor Bowers (0-3) took the loss for Oakland as he gave up five runs in two innings, while Staats fell just one out shy of qualifying for a victory in his second straight weekend start. The senior allowed three runs, all in the fifth, and left after 4 2/3 frames. Matt Eagle (1-0) allowed two runs in 1 1/3 innings and was credited with the win.
VMI baseball will return to action Tuesday, when the Keydets take on the Richmond Spiders in a road contest. First pitch is set for 2 p.m. at Pitt Field in Richmond.