Mark Warner tours Staunton Innovation Hub: 'This could be duplicated'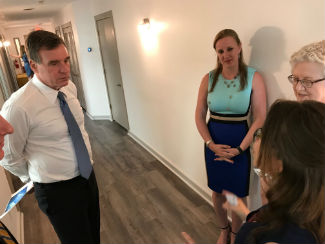 The Staunton Innovation Hub has me jealous, for what it offers aspiring entrepreneurs, which is me 16 years ago when launching Augusta Free Press.
I'm based in Waynesboro, where the focus in terms of economic-development strategy is still on landing the next big-box retail, if not the new Amazon headquarters, or something like it.
Meanwhile, a few miles to my west, Staunton is birthing business from the ground up.
I took a tour of the Staunton Innovation Hub on Thursday, with U.S. Sen. Mark Warner, himself no stranger to innovation, his background before politics, serving as governor of Virginia, in his second term as a United States senator, being in business, as a venture capitalist and early innovator in the tech market.
Warner spent about 45 minutes touring the facility, located in Downtown Staunton, about to spread to an adjacent building that was home for decades to the News Leader, talking up the entrepreneurs taking advantage of flexible co-working space that is a wave of the future in economic development.
"This is the kind of center of innovation that I'd like to see in every community across Virginia. It doesn't all have to be in Richmond or Northern Virginia," said Warner, striking a chord.
The Staunton Innovation Hub is something you expect to see in NoVa or Richmond. One of its anchor tenants is LGBT Tech, a national, nonpartisan group of LGBT organizations, academics and high-tech companies.
Other tenants include Skyler Innovations, creators of the popular party card game, Watch Ya' Mouth, and Mary Baldwin University, which will house its MBA program at the Hub starting this fall.
A private entity is working to create something along similar lines in Waynesboro, with some assistance from the city, but Staunton is light years ahead in terms of the collaborative effort behind the Staunton Innovation Hub.
The next AFP, which my wife, Crystal, and I launched out of the bedroom of an apartment in Waynesboro in 2002, and now encompasses a news operation reaching 10,000 unique readers daily, along with marketing and web services for dozens of clients across the country, is much more likely to grow from a Staunton Innovation Hub than it is in Waynesboro or other localities fixed on the big score.
Warner, for his part, was duly impressed after his tour.
"It's a very cool co-work space, along with the Staunton Creative Community Fund, with a linkage to the strong arts community, the college, other educational institutions. This could be duplicated," Warner said.
Story by Chris Graham
Comments