Mark Warner to host annual Virginia Service Academy Day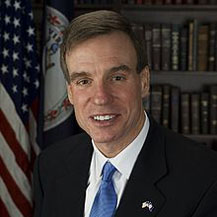 Senator Mark Warner will host his annual Virginia Service Academy Day on Saturday, March 24th, from 10 a.m. to 1 p.m. at the Paramount Theatre in Charlottesville.
The event will offer students, parents and school counselors a comprehensive overview of the United States service academies and their admission processes.
Attendees will have an opportunity to meet with officials from the five federal service academies, as well as representatives from ROTC programs, Virginia Tech Corps of Cadets, Virginia Military Institute, and Randolph Macon Academy at the end of the program.
The Air Force Academy, Merchant Marine Academy, Military Academy and Naval Academy require a two-tier admission process of highly qualified individuals; an applicant must meet the rigorous admissions requirements of an academy, as well as receive a Congressional nomination to be accepted into an academy.
Registration for Academy Day is at https://2018serviceacademyday.eventbrite.com.
Information on the nomination process for the service academies is available on the senator's website at www.warner.senate.gov. You may call the Vienna office at 703-442-0670 with any questions.