Mark Warner speaks on Senate floor in support of Gina Haspel CIA director nomination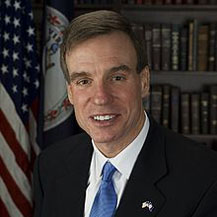 U.S. Sen. Mark Warner (D-VA), Vice Chairman of the Senate Select Committee on Intelligence, spoke on the floor of the U.S. Senate ahead of an expected vote to confirm Gina Haspel as Director of the Central Intelligence Agency (CIA).
"Gina Haspel is among the most qualified people to be nominated for the position of the Director of the Central Intelligence Agency. She's served with the Agency for thirty three years, including tours as a case officer, four times as a station chief, the deputy chief of the National Resources Division, the Deputy Director of the National Clandestine Service, and currently as the Deputy Director of the Agency," Sen. Warner said. "In many ways, her story is representative of the thousands of people at the Agency and throughout the Intelligence Community who serve quietly, without recognition, and often at great personal risk, in order to keep our nation safe from those who wish to do us harm… I would also note that, as a Senator from Virginia, the home to thousands of CIA personnel, and the Vice Chairman of the Intelligence Committee, I have heard from many Agency officers, and for that matter, members of the rank and file of other Intelligence Community agencies. And almost to a person, this rank and file have supported her nomination."
Sen. Warner also addressed concerns about Ms. Haspel's participation in the Rendition, Detention, and Interrogation program.
"Let me be clear—this has not been an easy decision. Over the past several weeks I have held multiple meetings and calls with Ms. Haspel and many others about her record and her character. In our open committee hearing, I have raised questions about her involvement with the Rendition, Detention, and Interrogation program, and if she were to be confirmed, her willingness to push back if President Trump asked her to undertake any immoral, or legally questionable, activity… I strongly believe that we, as Americans, have a duty to look squarely at our mistakes, and to not sweep them under the rug, but to learn from them, and in the future do better," said Sen. Warner. "Most importantly, I believe she is someone who can and will stand up to the President, who will speak truth to power if this President orders her to do something illegal or immoral – like a return to torture. I believe this not just because she's told me so, or because she wrote it in a letter, or even because she said it under oath in front of the committee. I believe it because I've heard it from people who worked with her and who have known her for years."
Concluded Sen. Warner, "I respect my colleagues who have made a different decision. This was not an easy choice. I too spent weeks working through it. But at the end of the day, and as we vote later this afternoon, I believe Gina Haspel should be confirmed. I look forward to supporting her, I look forward to her being a good Director of the CIA, and I look forward to her performance convincing those who could not support her today that her long-term value to our country will make our country safer and that she will act in accordance to the principles and values of our country."
Comments