Mark Obenshain statement on AG's stance on marriage ban
State Sen
.
Mark Obenshain
(R-Harrisonburg) issued a statement about
attorney general
Mark Herring's announcement that his office will not defend Virginia's Marriage Amendment, and will be filing a brief asking the court to strike down a provision of the state constitution.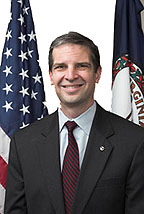 "Virginians, like millions of others across the country, are engaged in a robust debate over marriage, one that speaks to an important unresolved constitutional issue. Here in Virginia, the state's Marriage Amendment is a matter of perennial legislative debate, and that Amendment could well fall: the voters could repeal it or a court may strike it down. But it is emphatically not the role of the attorney general to make that determination unilaterally, and that may well be the consequence of attorney general Herring's decision.
"Fair minded people disagree on the issue of gay marriage, but this is, fundamentally, about the rule of law and allowing the system to work. Whether the Marriage Amendment will survive court scrutiny is clearly an unresolved question, but our system of law does not work when one side of the argument fails to show up. It is manifestly the job of the attorney general to defend the law and let it rise or fall on it merits in court."
attorney general Herring, who on the campaign trail refused to take a clear position on whether he would defend Virginia law in this and other instances, will be filing a brief in support of the plaintiffs, according to spokeswoman Ellen Qualls.
"The attorney general is the Commonwealth's lawyer," said Obenshain. "It is deeply inappropriate for the attorney general to use state resources to actively oppose a duly ratified constitutional amendment. Through this decision, Herring is effectively seeking to unilaterally reverse the actions of the General Assembly in adopting the Amendment, and the people of Virginia in ratifying it. There are deeply held convictions on both sides of this issue, which is why it is all the more important that the case has its day on court—and that both sides of the dispute are ably and robustly argued."
In a September interview with the Richmond Times-Dispatch, Herring said that he would "poll the attorneys in the attorney general's office who have the expertise in the particular subject matter" to help him determine whether or not to defend the Marriage Amendment or other laws in court. At a debate on October 2nd, he pointedly declined to state whether he would defend state laws with which he disagreed.
Obenshain concluded, "I look forward to working with the attorney general on many important issues for the good of all Virginians, and have no intention of highlighting every possible point of disagreement that may arise throughout Herring's term in office, but I consider the question of whether or not the Office of the attorney general is to defend Virginia law a matter of utmost importance, something that goes to the heart of the duties of the attorney general. This is especially true given Mark Herring's dissembling comments made over the past six months on the campaign trail.  Virginians should be disappointed that he didn't display the courage to share his intentions when repeatedly asked during his campaign. Today's decision sets a disturbing precedent and has the potential to deprive Virginians on both sides of this important issue of the legal scrutiny the matter clearly merits."
Comments