Lynchburg Hillcats pound out 17 hits in opening win at Myrtle Beach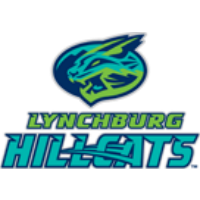 The Lynchburg Hillcats started the 2019 season with a bang, crushing the Myrtle Beach Pelicans, 14-5, at TicketReturn.com Field on Thursday Night.
The Hillcats (1-0) were led offensively by Trenton Brooks, who drove in five runs, and Steven Kwan, who picked up four hits and two RBI. The Pelicans (0-1) did not record a hit until the sixth inning.
Justin Garza (Win, 1-0) worked most of the game with a lead and fired five scoreless, hitless innings, striking out four.
Lynchburg grabbed an early 3-0 lead with a three-run second inning and never looked back. Oscar Gonzalez led off the frame with a triple and scored on an RBI ground out from Brooks. Later in the inning, Kwan ripped a two-out, two-run single to extend the lead.
The Hillcats plated two more runs in the third inning. Nolan Jones and Gonzalez hit back-to-back singles, and moved up to second on third following a wild pitch. Brooks produced another RBI with a ground out, and Gavin Collins roped an RBI single to push Lynchburg's lead to 5-0.
After a fielder's choice plated a run in the fourth, Lynchburg scored twice more in the sixth inning. Kwan led off with a single and Jodd Carter walked, paving the way for a Jones RBI single. Gonzalez drove in another run with an RBI ground out, and the Hillcats led 8-0 heading to the bottom of the sixth.
The combined no-hit bid for Lynchburg ended in the sixth inning when D.J. Wilson reached on a bunt single. The Pelicans would get on the board with a three-run sixth, all unearned runs off of Felix Tati.
Carter reached on an error to start the eighth inning, and scored after Jones ripped an RBI double down the right field line. Brooks would add another RBI ground out to widen the gap to 10-3.
Myrtle Beach scored two runs in the eighth before Lynchburg added the exclamation point in the ninth. Luke Wakamatsu led off the inning with a solo home run. Later in the frame, with a runner on, Brooks worked an 11-pitch at-bat against Tyler Peyton, capping off the plate appearance with a two-run blast. The Hillcats also plated a run in the ninth inning on an error.
Jones, Gonzalez and Collins each tallied three hits in Lynchburg's win.
Ryan Broom gave up two unearned runs in the eighth inning and Jonathan Teaney pitched a scoreless ninth.
Alex Lange (Loss, 0-1) started for Myrtle Beach and was chased in the fourth inning. He lasted 3.1 frames, allowing six runs (four earned) on seven hits. He walked three and struck out two. Jesus Camargo allowed two runs in 2.2 innings, and Peyton surrendered four runs on five hits in 1.1 innings.
The Hillcats and Pelicans will continue their series on Friday night in game two of the four-game set. Left-hander Adam Scott will make his first start of the year for Lynchburg against Birds lefty Bryan Hudson. First pitch is set for 7:05 p.m.
Max Gun will be on the air beginning at 6:55 p.m. on TuneIn Radio and Radio434.
Lynchburg returns home to City Stadium on Monday, April 8, to take on the Salem Red Sox. The first 1,000 fans will receive a Magnet Schedule giveaway, presented by Nadine Blakely.
For tickets and more information, visit lynchburg-hillcats.com, the City Stadium box office, or call 434-528-1144.
Comments