Live Blog: #8 UVA hosts #12 UNC in key early-season ACC matchup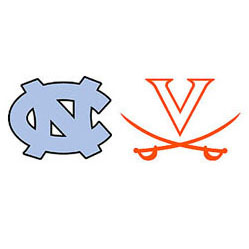 AFP editor Chris Graham leads our live blog as #8 UVA (13-1, 2-0 ACC) hosts #12 UNC (12-3, 1-1 ACC) today at 1 p.m. in Charlottesville.
Broadcast Information
The Virginia-North Carolina contest will be televised on ESPN and streamed on ACC Network Extra (ESPN3.com) and ESPN App, and broadcast on the Virginia Sports Radio Network, VirginiaSports.com and Virginia Athletics mobile app on iTunes or Android.
Live statistics will be located on VirginiaSports.com and the Virginia Sports app.
Key players: Virginia
Kyle Guy leads the team in scoring at 15.5 points per game and has reached double figures in 12 games, including a career-high 29 points at VCU (11/17/17) and 21 vs. Lehigh (12/2/17).
Devon Hall has averaged 11.5 points, which is 3.1 points higher than last year's average of 8.4 points.
Isaiah Wilkins is averaging 6.9 points and team-highs in rebounds (7.4), blocked shots (1.4) and steals (1.4).
Ty Jerome is averaging 9.9 points and Salt has chipped in 4.1 rebounds per game.
Key players: North Carolina
March Madness breakout star Luke Maye has built on his success from last spring, putting in a team-best 18.1 points and 10.5 rebounds per game, shooting 51 percent from the field and 45.5 percent from three-point range.

Point guard Joel Berry II has stepped up more in the scoring department, averaging 17.9 points per game, up more than three points per game over last season and more than five points per game better than his sophomore output.

Keys to the game
Clamp down on Luke Maye: The 6'8" junior is the classic stretch-four that can give the Pack-Line fits. Adept in the paint, Maye is dangerous on pick-and-pops with his range from three. Isaiah Wilkins, the best defender in the ACC according to Sports-Reference.com's defensive efficiency rating, gets the assignment. Strength vs. strength there.
Keep the Heels off the offensive glass: North Carolina hasn't been what it has been on the offensive boards. This year, UNC is grabbing 33.8 percent of the rebounds of its own misses, 30th-best in the nation, but last year, the Heels rebounded 40.2 percent of their misses, best nationally, and otherwise just absolutely ridiculous. Virginia ranks 12th nationally this season in defensive rebounding percentage, hauling in 79.2 percent of opponent's misses.