Liberty drops home contest to UNC Asheville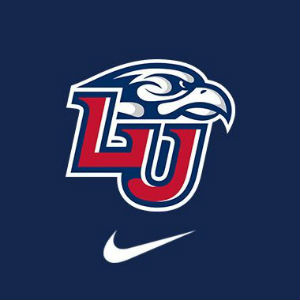 UNC Asheville opened the first half on a terror shooting 73 percent from three-point range building a 20-point lead that Liberty could not recover from as the Flames lost 84-68. The Flames drop to 12-9 and 3-5 in the Big South while the Bulldogs improve to 12-9 and 5-3 in conference.
After grabbing four rebounds, Lovell Cabbil became the 45th player in school history to record 300 career rebounds. Cabbil now has 302 career rebounds. Caleb Homesley led Liberty with a team-high eight rebounds and five assists while also chipping in four points.
"I thought we got off to a poor start again and we knew they (UNC Asheville) were going to come out angry after their result at Winthrop," head coach Ritchie McKay said. "I thought we would come out angrier but we didn't and we let them dictate the pace of play on the defensive end and we were behind the whole night."
The Bulldogs were exceptional on offense all night long, shooting 62 percent from the field (30-48) and 62 percent from three-point range (15-24) led by Ahmad Thomas and Kevin Vannatta with 23 points each. UNC Asheville had the ball moving on offense dishing out 20 assists as six different players recorded an assist.
The Flames had three different players score double-figures led by Scottie James with 19 points to go along with seven rebounds. Ryan Kemrite shot 50 percent for the game (4-8) with 12 points. Liberty was able to move the ball on offense, handing out 16 assists.
UNC Asheville came out of the gates firing on offense jumping out to a 13-2 run sparked by Thomas scoring Asheville's first seven points of the game. The Bulldogs started the game 8-10 from three-point range led by MaCio Teague, Thomas and Vannatta each with a pair of three's.
"We couldn't find a defensive presence to make it hard for Asheville," McKay added. "When you don't make it hard for Asheville that is what you are going to get."
The Flames were able to stay in the game receiving offense from its bench in the first 20 minutes. Of the Flames' 32 points in the first half, 14 points came from the bench led by Myo Baxter-Bell with six points. Homesley filled the stat sheet in the first half with six rebounds, four assists and four points.
Vannatta was exceptional on the offensive end in the first half shooting 6-9 from the field scoring 19 points with five field goals from three-point range. Thomas joined Vannatta in double-digits scoring 12 points along with three assists.
The Bulldogs ended the first half with a 51-32 lead after shooting 66 percent (16-24) to go along with 14 assists. The Flames shot just 35 percent in the first half but were able to outscore UNC Asheville 18-10 inside the paint. Liberty struggled from beyond the arc making 1-10 from three-point range.
The Flames opened the second half making four of their first six field goal attempts to cut the Bulldogs' lead to 56-41. The Bulldogs responded with an 8-0 run to jump back to a 22-point lead (64-42). The Bulldogs would continue to be efficient on offense shooting 44 percent in the second half led by Thomas with 11 points.
The Flames will have a quick turnaround as they return to action in two days, Jan. 23, at home against Campbell. Tipoff against is Camels is set for 7 p.m. at the Vines Center.