Liberty announces full 2019 football schedule
Liberty's future football schedules continue to fall into place including today's announcement with the completion of the 2019 football schedule. In 2019, Liberty will have completed its two-year FBS transition process and will be eligible to compete for bowl game appearances.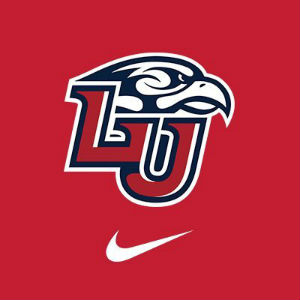 "We continue to make rapid progress in building our future football schedules," said Director of Athletics Ian McCaw. "Hosting Syracuse for our 2019 opener at a renovated Williams Stadium during our inaugural game as a full FBS member will be much anticipated event for Flames Nation."
Nine of Liberty's 12 opponents in 2019 had already been revealed prior to today. During President Trump's Commencement announcement on May 12, the 45th President of the United States named seven of Liberty's opponents, while Liberty has since made public football series against both Syracuse and Virginia.
A road game at Louisiana (Sept. 7) and home contests against Hampton (Sept. 21) and Maine (Oct. 19) round out Liberty's 2019 slate. Additionally, Liberty will complete the home-and-home series with Louisiana when the Ragin' Cajuns visit Williams Stadium on Nov. 20, 2021.
The Flames will play four of their first five games in 2019 in a completely renovated Williams Stadium. Phase one of the renovation will take place between the 2017 and 2018 seasons, including the expansion of the stadium's East side with upper deck seating, improved concessions areas and a new entrance to the stadium.
Phase two will be completed in time for Liberty's 2019 home opener against Syracuse on Aug. 31, with renovations to the West side of Williams Stadium to include loge box seating.
Liberty will host its first-ever FBS Power Five opponent when the Orange comes to the "Hill City" for a game on the final day of the month of August.
Following its road game at Louisiana on Sept. 7, Liberty will host Buffalo (Sept. 14), Hampton (Sept. 21) and New Mexico (Sept. 28) to round out the month of September.
Liberty will have two road games in October against New Mexico State (Oct. 5) and Rutgers (Oct. 26), with a home contest against Maine scheduled in between the two games (Oct. 19).
The Flames will make their final push for their first-ever bowl appearance with road games at UMass (Nov. 2), BYU (Nov. 9) and Virginia (Nov. 23). Liberty will close out its regular season schedule on Nov. 30 when it has a rematch against New Mexico State.
On Feb. 16, the NCAA approved Liberty's waiver request to begin the two-year FBS reclassification process. Liberty is currently in its final season as a FCS program in 2017, playing as a member of the Big South Conference, but will not be eligible for the conference title nor the NCAA FCS Playoffs.
During the 2018 season, Liberty will compete as a FBS independent program and will not be eligible for postseason competition. At the conclusion of the two-year transition process, Liberty will be a full-fledged FBS program in 2019, which will include the opportunity to compete for bowl game appearances.
The Flames will host their first FBS home game against Old Dominion on Sept. 1, 2018, the first of four FBS teams to visit Williams Stadium in 2018 to meet the FBS reclassification criteria. The 2018 home schedule also features FBS matchups against North Texas (Sept. 22), Troy (Oct. 13) and New Mexico State (Nov. 24).
Fans who purchase 2017 and 2018 season tickets will have priority on purchasing season tickets in 2019. For more information about becoming a season ticket holder, please contact the Flames Ticket Office at (434) 582-SEAT (7328) or tickets@liberty.edu.
Fans can support Liberty Football and enjoy special game-day privileges by joining the Flames Club. The Flames Club exists to underwrite Liberty Athletics' three-fold mission to train Champions for Christ, provide a world-class student-athlete experience and achieve victory with integrity.
Flames Club membership starts at just $60 and members can enjoy preferred parking, seating and pregame hospitality benefits, based upon membership level. All seats at Williams Stadium other than general admission bleacher seats require membership in the Flames Club.
For more information about red reserved bench-back seats, blue premium chair-back seats, club seats or future loge box seats, call 434-582-CLUB (2582), email FlamesClub@liberty.edu, or visit www.LibertyFlames.com/FlamesClub.
2019 Liberty Football Schedule
Aug. 31

 vs. Syracuse
Sept. 7 at Louisiana
Sept. 14 vs. Buffalo
Sept. 21 vs. Hampton
Sept. 28 vs. New Mexico

Oct. 5

 at New Mexico State

Oct. 19

 vs. Maine

Oct. 26

 at Rutgers

Nov. 2

 at UMass

Nov. 9

 at BYU

Nov. 23

 at Virginia

Nov. 30

 vs. New Mexico State
Comments