Lee Pulliam takes checkered flag at Response Energy 100 CARS Tour event at Bristol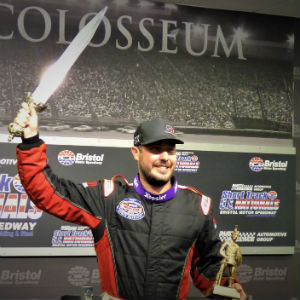 Veteran Late Model Stock car racer Lee Pulliam pulled off a big victory on Saturday night in the Response Energy 100 CARS Tour event, one of the feature races in the Rusty Wallace Automotive Group Short Track U.S. Nationals at historic Bristol Motor Speedway.
Pulliam was in the right place at the right time; in front of the pack when the rains came and stopped the event 64 laps into the 100 lap feature.
Track and series representatives declared the race official since the race crossed the halfway point when weather moved into the area.
Before the race-ending caution came out, Pulliam was battling with defending winner Myatt Snyder for the lead and holding off a strong challenge from hard-charging Layne Riggs in the closing laps.
Pulliam started 24th for the event but moved to the front to claim his first Bristol victory and was Pulliam's second win of the season on the CARS Tour and his fourth top five finish.
"I was trying to be cautious," Pulliam said. "You are running so fast here I was trying to not wreck (Myatt). I wanted to race him hard but not wreck him. I was able to maintain it and was able to hold him off. I like to win races, that's the main goal and it's what it's all about for me."
"It's pretty awesome," Pulliam said. "I had a hard hit here in 2014 in a K&N car when I was running third and contending for a win. It's special to come back here and run so well and win in front of my wife and daughter."
Riggs finished second, Snider was third and Ty Gibbs finished fourth in his No. 18 machine. Josh Berry, who drives the No. 88 for JR Motorsports, finished fifth.
"I was always a big Dale Earnhardt Sr. fan and he always did well here. I remember those races with him and Terry Labonte. Anytime you can get a win here with the history, it's pretty special."
Ohio driver Kyle Purvis took the checkered flag in the 50-lap Modified feature race. Purvis drove his No. 13 Farm Transport/Purvis Properties machine to the win, holding off Damon Breedlove and Bruce Bennett Jr., who finished second and third respectively.
Ricky Wilson and Bill Honious advanced to the Compact A feature with their respective victories in the Compact B and C feature races.
By Rod Mullins | Augusta Free Press
Comments