Leclerc authors five scoreless to help Salem Red Sox beat Frederick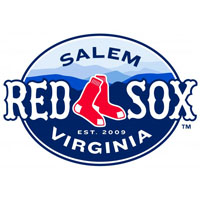 Rafael Devers came within a single of the cycle and Anyelo Leclerc tossed five scoreless innings, leading the Salem Red Sox to a 5-2 win over the Frederick Keys on Saturday night at NYMEO Field.
Devers started his tremendous night with a double that slammed off the right field wall in the first inning. A single and a walk loaded the bases for the Sox with one down before Mike Meyers put Salem (49-29, 6-3) up 1-0 with a sacrifice fly to right.
In the third inning, Wendell Rijo singled in front of Devers, who clobbered a no-doubt two-run home run to straightaway center field that cleared the nearly 30-foot wall. The clout was his fifth of the season and put Salem ahead 3-0.
In his third at-bat, Devers cranked a triple off the right-center field wall and came around to score on a Meyers RBI single that pushed the advantage to 4-0 in the fifth. Devers would have two more plate appearances in the game, but was walked twice on a total of nine pitches, denying him the opportunity for Salem's first cycle in 11 years.
Overall, Devers was 3-for-3 with a double, triple, home run, two walks, two runs scored, and two RBI. The nine total bases were a new high for a Red Sox player this season. Meyers also collected a three-hit day, going 3-for-4 with two RBI.
Meanwhile, Leclerc (1-0) was dominant in his second start with Salem. He yielded only two hits in five innings, striking out four and walking one.
After Leclerc left the game, the Sox added another tally on a sacrifice fly in the sixth from Deiner Lopez to make it 5-0. Yankory Pimentel entered in the last of the sixth and quickly allowed a pair of solo homers to Wynston Sawyer and Conor Bierfeldt.
Pimentel settled down, though, to pitch three innings in relief, giving up two runs on four hits. He gave way to Jamie Callahan, who tossed a perfect ninth with a pair of strikeouts to earn his first save of the season.
Lucas Long (4-5) took the loss for Frederick (41-38, 5-4), allowing four runs on nine hits in five innings.
The series wraps up on Sunday evening at 6:00 pm. Matt Kent (6-3, 3.24) will toe the rubber for the Red Sox while the Keys will counter with Matthew Grimes (8-4, 1.45). Follow along with all the action on the Salem Red Sox Baseball Network, with pre-game coverage beginning at 5:45 pm.