Lamar's hot shooting sparks win over Liberty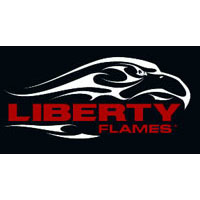 Liberty began its Texas road trip Monday night in Beaumont, Texas with a matchup against Lamar. The Cardinals shot 62.8 percent from the floor (27-of-43) throughout the game as the Flames suffered an 82-65 loss to begin the road trip.
With the victory, Lamar ups its record to 6-5 on the season and remains unbeaten at the Montagne Center on the season (4-0). The loss drops the Flames to 5-7 on the year.
The Texas trio of Lovell Cabbil, Ryan Kemrite and A.C. Reid combined for 41 of Liberty's 65 points, shooting 54.3 percent from the field as a trio. Reid, posted a season-high in points (15) and field goals (5) and three-pointers made (5). John Dawson filled up the stat sheet, scoring 14 points while pulling down team-highs in rebounds (6) and assists (4).
The Cardinals got off to a hot start making their first four three-point attempts, jumping out to a 12-2 lead. Liberty had to battle foul trouble early in the game with five players having two or more fouls in the first half. The Flames continued to battle and chip away at the Cardinals' lead, cutting it down to five points (32-27) with three minutes left in the first half.
Due to foul trouble, the Flames looked to their bench during the first half and it stepped up with 13 points, led by Texas native, Lovell Cabbil, with seven points. After a slow start, the Flames outscored Lamar 23-19 in the final 11 minutes of the first half, to go into halftime trailing 39-32. The Texas trio of Kemrite, Cabbil and Reid combined for 21 of Liberty's 32 points in the first half.
The lights out shooting from three-point range continued for Lamar early in the second half, going out on a 14-7 run in the first four minutes of the final period. Lamar's Nick Garth led the charge in the second half, making six three-pointers to finish with 22 points.
Garth was one of five players to finish the game in double figures for the Cardinals. Dorian Chatman followed with 12 points, while Torev Noel and Josh Nzeakor had 11 points each. Joey Frenchwood rounded out the group with 10 points, while adding a game-high 12 assists.
The Flames will conclude their road trip in Texas on Wednesday, Dec. 21, at Houston. Tipoff is set for 8 p.m. (EST).
Comments