Kurt Benkert selected to participate in 2018 State Farm All-Star Football Challenge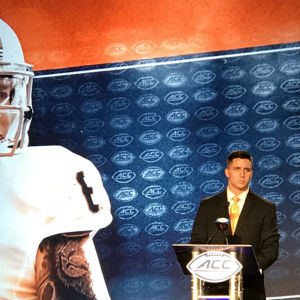 Former Virginia quarterback Kurt Benkert will participate in the 2018 State Farm All-Star Football Challenge at AT&T Stadium in Arlington, Texas.
The 20th edition of the All-Star Football Challenge will air on ESPN2 at 9 p.m. ET on Friday, Feb. 2. For the second consecutive year, the skills competition will feature 24 of college football's brightest stars divided into six teams based on their college conference. Each team will consist of four players from the same conference that will compete for conference supremacy in a series of skills competitions.
The conferences represented are the ACC, the Big Ten, the Big 12, the Pac-12, the SEC, and four of the best players outside of the Power Five that will be called the "Wild Card" team.
Benkert (Sr., Cape Coral, Fla.) is the first player in Cavalier history to throw for over 3,000 yards in a season. His single-season UVA record for passing yards was set in 2017 at 3,207 passig yards. He also set UVA's single-season record for total offense with 3,144 yards in 2017. Benkert is the first player in Virginia history to throw for over 20 touchdowns in multiple seasons.
He had 21 in 2016 and his 25 in 2017 are No. 2 all-time at UVA for a single season. In only two years Benkert ranks No. 3 all-time at UVA with 5,759 passing yards and 46 passing touchdowns. For his career, Benkert holds the UVA records for completions per game (21.91), passing touchdowns per game (1.92) and fewest career interceptions per career pass (0.0218).