Junior leaders pace George Mason past Saint Louis, 86-81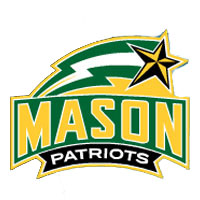 Juniors Otis Livingston II and Jaire Grayer combined for 51 points to power the George Mason University men's basketball team past Saint Louis, 86-81, on Saturday afternoon inside EagleBank Arena.
Behind that leadership effort, Mason (9-9) won its second-straight Atlantic 10 contest and have won three of five league games heading into Wednesday's Revolutionary Rivalry game at George Washington.
Mason's 3-2 league start is its best in the team's five-year tenure in the Atlantic 10.
"Thats a great win for our guys against a really talented, tough team," head coach Dave Paulsen said. "Obviously, Otis and Jaire were phenomenal offensively. I'm really pleased, but now we just have to continue to work. Give these guys a lot of credit. Our guys were sitting here a week ago after getting their rear ends handed to them [vs. Davidson] and instead of wallowing, they got back to work, worked on their individual games and really practiced well."
Livingston II continued to cement his place in the upper echelon of A-10 players, posting a team-high 26 points on 9-of-16 shooting He made 3-of-5 3-point attempts and dished out a team-high seven assists in a full 40 minutes on the floor.
He averaged 25.5 points and 5.0 assists while shooting 72.7 percent from 3-point territoriy during Mason's 2-0 week. Livingston II is averaging 23.6 points, 4.6 assists and shooting a sizzling 54.5 percent in five conference games.
Grayer set a new career high with 25 points against the Billikens while making 9-of-13 shots and 4-of-7 3-point field goal attempts. The Flint, Mich., product also grabbed a team-high seven rebounds and dished out three assists. He's shooting 50 percent (15-30) from 3-point range in league play.
Mason shot over 50 percent for the second-straight game and above 40 percent from 3-point range for the third-consecutive contest. The Patriots made 54.2 percent of their shots and connected on 9-of-20 3-point attempts (.450).
The Patriots also withstood a superb offensive performance from the Billikens, who shot 48.4 percent from the floor and grabbed 13 offensive rebounds. SLU's Davell Roby talllied a career-best 27 points on 10-of-13 shooting (6-8 3pt FG).
Mason committed less than 10 turnovers for the second-straight game and posted 36 of their 81 points in the paint. The Patriots are 5-1 when at least 35 of their team's points come from the interior.
SLU's Davell Roby made his first five shots to help the Billikens jump out to an 18-8 lead at the 13:35 mark of the first half. Seven-straight points for Jaire Grayer helped Mason pull within three (20-17) at the 12:14 mark, but the Billikens went back up six (29-23) with 7:23 to play in the stanza.
With SLU ahead 35-27, Mason used a 9-0 spurt, including 3-pointers from Javon Greene and AJ Wilson – to take its first lead of the game (36-24) with 1:29 remaining in the first. The Billikens would take a lead of that margin (39-38) into the half.
Mason scored the first two buckets of the second half to go up 43-39, but SLU responded with an 11-0 spurt to build a seven-point advantage (50-43) at the 15:47 mark of the second stanza. With SLU leading 56-50, the Patriots rallied with a 10-2 run of their own – capped by a Livingston II jumper – to go up 62-58 with 9:29 left.
Five-straight from Livingston II gave Mason a 75-66 edge with 5:24 to play, but SLU would make a final push as the game wound to a close. Nine-straight from the Billikens over the next three minutes brought the game to a tie (75-75) with 3:06 left.
Livingston II again took over for Mason from there, scoring four in a row to put the Patriots up 81-77 with 1:50 left. Davell Roby hit a 3-pointer to pull SLU within three (83-80) with under a minute to go, but that's as close as the Billikens would get. Mason closed it out with free throws from there.
The win snapped a four-game skid for the Patriots vs. Saint Louis.
Mason heads back on the road to play the first of two Revolutionary Rivalry games in 2018. The Green & Gold will make the 20-mile trek and cross the Potomac to battle George Washington in Foggy Bottom on Wednesday. Tip-off between the Patriots and Colonials is set for 7 p.m. on the A-10 Digital Network.