JMU biology, kinesiology professors earn state's highest award for faculty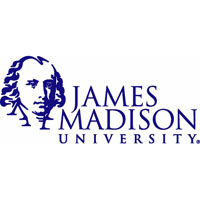 Dr. Mark Gabriele, a professor of biology, and Dr. Thomas Moran, a professor of kinesiology, are among 12 recipients of the Outstanding Faculty Award presented by the State Council of Higher Education for Virginia and Dominion Resources.
The Outstanding Faulty Awards recognize superior accomplishments in teaching, research and public service at Virginia's institutions of higher learning. Nominees are selected by the institutions, reviewed by a panel of peers and chosen by a committee of leaders from the public and private sectors. In all, 83 nominations were received this year. This group was narrowed to a field of 27 finalists and then to the 12 recipients.
Gabriele, who has taught at JMU since 2001, and Moran, a JMU faculty member since 2008, are the 14th and 15th award winners from JMU since the award was first presented in 1987. Math professor Caroline Lubert and marketing professor Theresa Clarke received the award last year.
Gabriele said the award "is truly a reflection of the hard work of so many amazing students I've had the pleasure of mentoring, the openness and collaborative spirit of my colleagues, and the ongoing support of our leadership that encourages faculty to blend traditional boundaries of our teaching, research and service activities."
Moran said, "I have been blessed to work with awesome colleagues, students, and individuals of all ability levels in the community who challenge me to grow as a person and a professional every day.  I dedicate this award to all those past and present who have given me numerous opportunities to be part of something special at JMU."
A ceremony honoring the recipients will be held March 1 at The Jefferson Hotel in Richmond. Each recipient will receive an engraved award and $5,000 underwritten by the Dominion Foundation, the philanthropic arm of Dominion Resources. The Outstanding Faculty Award program is administered by SCHEV and funded by a grant from the Dominion Foundation, which has fully supported the OFA program since 2005.
SCHEV is the Commonwealth's coordinating and planning body for postsecondary education. The agency provides policy guidance and budget recommendations to the governor and General Assembly, and creates the statewide strategic plan, The Virginia Plan for Higher Education. SCHEV has administered the Outstanding Faculty Awards since the program's creation by the legislature in 1986.
The Dominion Foundation is dedicated to improving the physical, social and economic well-being of the communities served by Dominion companies. Dominion and the Foundation support nonprofit causes that meet basic human needs, protect the environment, support education and promote community vitality. For more information about Dominion (NYSE: D), headquartered in Richmond and one of the nation's largest producers and transporters of energy, visit www.dom.com.