Inside the Numbers: Jack Salt. That is all.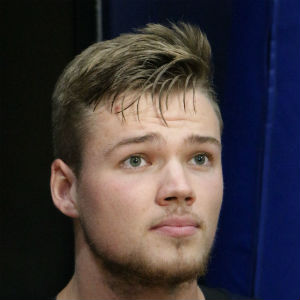 Kyle Guy doesn't remember Jack Salt ever making a right-handed shot, in a game, in practice. And then he did, as part of a late eight-point flurry that keyed Virginia's 64-58 win over Clemson.
It was a helluva time for Salt to have his ACC season-high, and it all came in a 6:26 stretch as the Tigers were cutting into a 14-point UVA lead, getting as close as four points in the final seconds.
Salt, who was averaging 3.4 points per game coming in, hadn't scored until the 8:26 mark, after a 9-2 Clemson run had cut the 14-point margin in half.
His next bucket, at the 5:51 mark, pushed a five-point lead to seven. A hoop on Virginia's next possession got the lead to eight.
It was back at six with two minutes to go when Salt tipped in a Devon Hall miss.
The big man from New Zealand didn't lead the 'Hoos in scoring – that would have been Kyle Guy, the team's leading scorer on the season, who had 15 Friday night.
That it was Salt, who gets his minutes the hard way, because coach Tony Bennett likes his defense, his rebounding, his potent screens on the baseline and on the blocks, who had the game's most important points says a lot about this Virginia team.
The pundits like to say that UVA might be #1, but it doesn't have #1 talent, and that's probably true. The roster isn't loaded with lottery picks like a Duke or Kentucky, though Guy was a McDonald's All-American in high school, and Hall, Ty Jerome, De'Andre Hunter and Isaiah Wilkins were all four-star recruits coming out of high school.
How many ever stars they had coming in, they win at Virginia playing what Bennett calls possession-by-possession basketball, making opponents work through the Pack Line to get looks on the offensive end, then fight through constant screens, cuts and slashes into the lane on the defensive end, roughly 120 times a night, in a war of attrition that the Virginia kids are prepared for, and their opponents are often not.
Jack Salt epitomizes that workman's ethos, so Salt being the player of the game in an ACC Tournament semifinal tells you all you need to know about why this Virginia team is a national-title favorite in 2018.
Story by Chris Graham