Defense, better rebounding, key #2 Virginia in win at Georgia Tech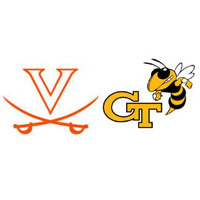 This is a broken record, so, sorry, but, yes, defense keyed #2 Virginia in its win at Georgia Tech Thursday night.
The Yellow Jackets scored 48 points on 59 possessions, for a meager .814 points per possession on the night, below the nation's best .847 points per possession that the 'Hoos have allowed opponents this year.
Impressive, yes, on the road, against a team that had home ACC wins over Miami and Notre Dame in the past two weeks.
Just as impressive: the individual numbers.
Josh Okogie, Tech's leading scorer, at 18.8 points per game coming in, had nine points, shooting 3-of-8 from the floor.
Jose Alvarado, averaging 12.9 points per game coming in, had four on 1-of-7 shooting.
Ben Lammers, averaging 12.1 points, had four points on 1-of-5 shooting.
No Georgia Tech starter got into double figures. Tadric Jackson had 14 off the bench, and it took him 15 shots to get there.
Now, to how Virginia did it.
My thought was, to counter Lammers, a 6'10" space eater at center, that UVA coach Tony Bennett would use a lot of Jack Salt, who got 35 minutes in Virginia's win over Georgia Tech last year in Charlottesville as he held Lammers in check, limiting the big man to seven points on 3-of-12 shooting.
But Salt got just 12 minutes Thursday night, with De'Andre Hunter eating up more minutes in the post off the bench.
Hunter played 28 minutes and started the second half, scoring a game-high 17 points on 7-of-9 shooting, but also playing solid D in the post, as Isaiah Wilkins moved over from the four to check Lammers, giving up three inches and about 30 pounds.
Hunter, a 6'7" guard, at least on paper, has become a valuable frontcourt guy for Bennett in ACC play, his skill set on both ends allowing Virginia to play big and small, in a manner of speaking, at the same time.
Lost in looking at his offensive output is what Hunter did on the boards, pulling down seven misses, including four on the offensive boards.
Virginia finished with a modest 30-29 edge on the glass, but significant is what it was able to do cleaning up the defensive boards.
UNC and Syracuse pulled down in the range of 50 percent of their misses in recent UVA wins, and NC State got 40 percent of its misses.
Thursday night, Virginia had a nice 74.1 percent defensive rebounding rate.
One other key defensive stat: turnovers. Georgia Tech had 18 of them, on 59 possessions. That's an absurd 30.5 percent rate.
That's how you score 48 points while shooting 40.5 percent from the floor and 5-of-11 from three.
Virginia had 16 more field-goal attempts while having a rebound advantage of +1. There's news you can use.
Story by Chris Graham