Top News
Hugo Kohl's Museum of American Jewelry Design & Manufacturing opens Thursday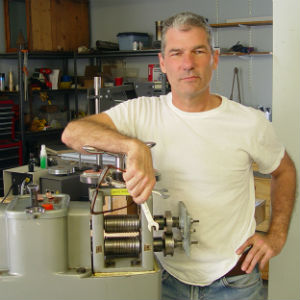 The Museum of American Jewelry Design & Manufacturing will open its doors to the public on Thursday, February 19th in Downtown Harrisonburg. The museum is the only one of its kind in the United States, and was created to help people make a connection to the vintage jewelry that can be made and purchased there.
For more than 20 years, Harrisonburg jewelry maker and founder of the museum, Hugo Kohl has been collecting and preserving antique hand engraved hubs, dies and rolls that were originally used to die strike jewelry during the industrial age. The museum will display over 7,000 pieces, the largest collection of jewelry hubs in the U.S. In addition, visitors will discover artifacts from many well known companies such as Tiffany & Co. and large manufacturing machines and tools they will be able to interact with in a controlled setting.
Hugo Kohl's vision was to design a museum that will give visitors a visual, audible and sensory experience of jewelry manufacturing. An elevated floor plan allows people to browse the retail store while watching artisans create in the workshop below.
While vintage jewelry is the heart of the museum, Hugo realizes that his customers may wish for something more contemporary. Visitors will be able to create a custom piece of jewelry at a unique station dubbed the create bar, which is a CAD system that guides visitors through an online exercise that determines their preferences in jewelry. The system allows customers to build a piece of custom jewelry using the materials they select at the price point they want. Less than 10 days later, the custom piece of jewelry will be delivered to their door.
The manufacturing equipment and ability for visitors to have an interactive experience is also key to the museum's mission. "I believe that people are becoming more separated from where things come from," says Kohl. "But, when you put tools and materials in someone's hand, you can almost watch as their brains light up and they're able to actualize their imaginations with their own hands." A made-by-me station is in the plans for phase II of the museum. Visitors will be able to create pieces of art using the machines on display.
The Museum of American Jewelry Design & Manufacturing is located in the Ice House at 217 South Liberty Street in downtown Harrisonburg. The showroom will be open from 11am to 7pm Monday through Saturday. Hours for the workshop are 8am to 4pm Monday through Friday. For more information, visit hugohol.com or call 540.574.4306.