Henrico County woman named Miss State Fair
Carlehr Swanson of Henrico County is the 2018 Miss State Fair of Virginia.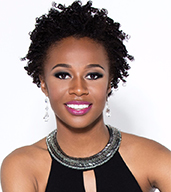 Swanson, 20, is pursuing a degree in jazz studies at George Mason University, where she is a junior. She was crowned Oct. 1 and will compete in the Miss Virginia pageant next summer.
Swanson is a classically trained pianist and hopes to earn a doctorate in music education.
Her personal platform is "Music is UNITY." She believes that music is healing and an outlet for stress and difficult situations in life. Swanson plans on expanding her platform into schools throughout Virginia to start "Music is UNITY" clubs through their music, theatre and other arts programs.
"I want others to receive the same joy I get from music, the freedom of expression and the ability to let go," she said. "Over the past four years I have worked tirelessly to bring music to others and give the youth a musical outlet. As Miss State Fair of Virginia, I will be able to continue using my talent to help make others feel good."
Swanson succeeds the 2017 Miss State Fair of Virginia, Taylor Reynolds of Chesterfield County, who was first runner-up at this year's Miss Virginia pageant.
Alexis Watkinson of Fairfax County was named Miss State Fair of Virginia Outstanding Teen; Ariana Deitz of Fairfax County was named Miss State Fair of Virginia Teen in Training; and Davion Washington of Richmond was named Miss State Fair of Virginia Princess. The pageant awarded more than $1,425 in scholarship funds. Several renewable $23,000 scholarships to Hollins University also were awarded to contestants in their junior and senior years of high school.
The State Fair of Virginia is held each fall at its permanent home at The Meadow Event Park in Caroline County. The fair's mission is to increase agricultural and natural resource awareness and interest through educational programs, exhibitions and competitions in a fun, family-friendly setting.
Comments