Help support Virginia's wildlife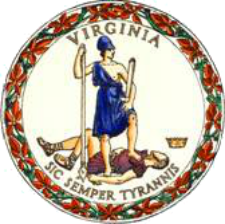 Filling out an income tax form is not really for the birds. Actually, it is for the birds, turtles, frogs, crayfish, chipmunks, and a host of other mammals, reptiles and invertebrates that make up the category of nongame wildlife. If you have a state tax refund coming, you may choose to designate any portion or all of your refund to support the management of nongame wildlife in Virginia.
The Nongame Wildlife Program is an essential part of the Virginia Department of Game and Inland Fisheries' (DGIF) mission to manage all wildlife and inland fish in the Commonwealth.
The term 'nongame' (watchable wildlife is another popular description) is used in connection with all wildlife species that are not actively sought by hunters, anglers or trappers. Your voluntary contributions make it possible for the Department to study and gain a better understanding of such diverse animals as the Virginia fringed mountain snail, cliff swallow, oak toad, eastern box turtle, pimpleback mussel, bald eagle, hoary bat and eastern chipmunk.
It is certainly a vast array of animals that are considered nongame, including the species of wildlife that are threatened or endangered. Of special importance is one very successful nongame project, and that is the Department's Bald Eagle Restoration and Management Program. The efforts of this program have been instrumental in the statewide and nationwide recovery of Bald Eagles.
Without broad-based citizen support, the Department would have difficulty in meeting the needs of hundreds of nongame wildlife species.
The Nongame Wildlife Program is supported by donations, federal grants, and private or government funding for specific projects. Contributions from Virginia residents using the State Income Tax Form check box make up 90 percent of all private donations and approximately half of the program's entire budget. By allowing some part or all of your refund to go to the birds—and also the turtles, the crayfish and more—you will have contributed greatly to the future of these species that many of us just simply take for granted.
To contribute, check the 'Virginia Nongame Wildlife Program' box on the 2017 State Income Tax Form and fill in the amount of your donation. If you do not have a refund coming, you can now make a donation online at www.gooutdoorsvirginia.com or mail a donation to the Nongame Wildlife Program, Virginia Department of Game and Inland Fisheries, P.O. Box 90778, Henrico, VA 23228. You can help to make a difference by conserving, connecting, and protecting Virginia's wildlife and natural resources.