Harrisonburg Turks clinch Valley League regular season title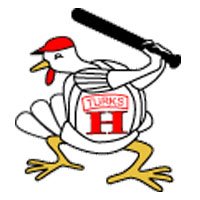 The Harrisonburg Turks clinched the 2014 Valley Baseball League pennant with a 2-0 win over the Covington Lumberjacks in a rain-shortened game on Saturday night.
The Turks scored two runs in the fifth inning that proved to be the difference in the game.  Luke Czajkowski started things off with a double to the left field wall.  He was followed by a Steven McLean RBI double and a Thomas Spitz RBI single.  The game was called off in the eighth inning after lightning strikes in the area.
Ben Parr earned his third win of the season for the Turks.  He pitched five and a third innings, allowed no runs on four hits and three walks and struck out two batters.  He improves his season record to 3-1.​  Luke Scherzer earned his first save of the season after he threw two and two thirds scoreless innings.
Covington falls to 18-23 on the season and Harrisonburg improves to 29-13.  With the pennant, the Turks will have home field advantage throughout the playoffs which start on Tuesday.
Harrisonburg wraps up its regular season schedule with a game at Covington on Sunday night at 7:00 p.m.