Harriet Kaplan of MACAA honored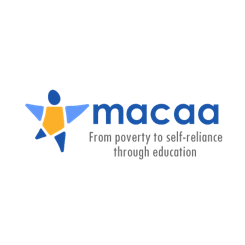 Harriet Kaplan, executive director and Head Start director of the Monticello Area Community Action (MACAA), was recently honored by the Blue Ridge Mountains Rotary Club with two prestigious awards.
She was voted 2017's Citizen of the Year for her "Exemplary Service above Self." In addition, she was named the Paul Harris Fellow for 2017. With this fellowship came a $500 award to be donated to the nonprofit of her choice. Of course, she chose MACAA as her charity.
Kaplan, who founded Charlottesville's prestigious Peabody School in 1994, graduated from Smith College in Northampton, Massachusetts with a bachelor's degree in economics and from the University of Virginia with a master's degree in elementary education. She was named MACAA's Interim Executive Director in March of 2016 and Executive Director soon thereafter. She added the job of MACAA Head Start Director in January of 2017. Harriet serves in the role of Executive Director on a pro bono basis and donates back 90% of her Head Start salary to MACAA Head Start. Kaplan is dedicated to serving her community and has been doing so for the past 24 years.
About MACAA
The Monticello Area Community Action Agency (MACAA) has been serving low-income families in the Charlottesville area since 1965. MACAA works to improve people's lives by helping them become self-sufficient. MACAA achieves this through a variety of programs that serve families and individuals in the city of Charlottesville and the counties of Albemarle, Fluvanna, Louisa and Nelson. Current programs include: Head Start, Hope House, Project Discovery, and Rural Outreach.