Hands on: Fishburne students plant trees, learn about environment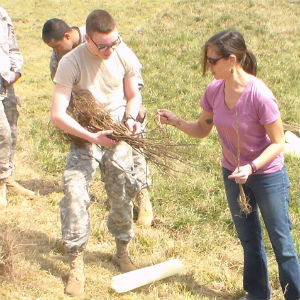 It's one thing to learn about the environment in a classroom. Fishburne Military School students had the chance this week to learn and impact the local environment in the field.
"Anytime high school students can get outside and actually do some practical application of things they've learned in theory, it's a great thing," said Lt. Col. Robert Hunt, the Senior Army Instructor at FMS, who led a group of 12 cadets on a project helping the City of Waynesboro plant seedlings at a stormwater detention pond in the Wayne Hills area.
The project, funded by a Virginia Trees for Clean Water grant awarded by the Virginia Department of Forestry, involved planting 185 tree and shrub seedlings. Project volunteers have planted fruit trees and spread mulch in some areas by the Public Works building adjacent to the detention pond that was formerly only turf.
"This pond that we're standing in was built back in 2010, and it relieved a lot of the flooding in the area, but it's oversized," said Jennifer Allen-Key, the in-flow and infiltration program manager with the city's public-works department.
"Back behind you, the area is bare. That's where the water usually goes and stays. It will be good to have this grass area where the water just rolls through to be able to let it penetrate in and not just go straight to the outlet structure," Allen-Key said.
Allen-Key said the city was "excited" to have the manpower from Fishburne on Wednesday to get the last phase of planting related to the project completed.
To Hunt, it was about tying learning to something tangible. The school, through its STEM Initiative, has cadets studying water local quality as part of the school's environmental science curriculum, with projects involving sampling the water of the South River every spring to determine the health of the river.
"This falls into other things we do with the city, like the South River Cleanup, where we go to help clean up the river, tours of the water plant, sewer plant, that kind of thing. We're already involved with the city on projects like this. That's why they reached out and contacted us, and we were glad to be a part of it," Hunt said.
Story by Chris Graham
Comments