GOP candidate Yesli Vega says liberal states engaging in 'free-for-all at taking innocent life'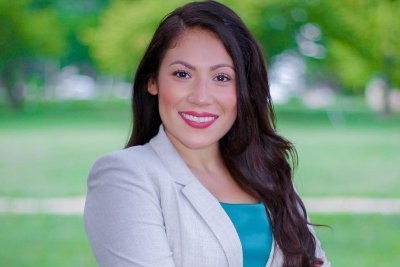 Yesli Vega, the Republican congressional nominee in the Seventh District, was caught on tape saying "abortion is not going to be an option" in states with conservative governors.
"And then you have the other liberal states where they're going to have a free-for-all at taking innocent life, and that's where we have to step in and say, What is acceptable and what is not? And in my opinion, I'm sorry, look, God is a giver of life, right, and therefore God takes life," Vega said in audio obtained by VPN News.
The audio is from a May 21 event in Spotsylvania County. VPN News reported that the Vega campaign did not dispute the authenticity of the recording.
A campaign advisor told the outlet that Vega supports the Supreme Court ruling in the Dobbs case handed down in June "returning the decision to the states."
"The people in each state can work to elect governors and legislators that will defend all life, like voters in Virginia did last year," the advisor, Sean Brown, said.
Vega is challenging incumbent Democrat Abigail Spanberger in the Seventh District, which covers a 3,100-square-mile area stretching from Central Virginia and the Richmond metro area into the D.C. exurbs.
Spanberger has won two tight races in the Seventh, in 2018 and 2020, and the race in the 2022 midterm cycle is expected, as those were, to be neck-and-neck.
National polls are showing an increase in momentum for Democrats in the midterms, which had been trending for months toward Republicans, with the energy fueled by reaction from moderate and progressive voters upset with the impact of the Dobbs ruling on women's rights.
"First, my opponent applauded the Supreme Court's draft opinion to overturn Roe, next, she asserted that women who are raped cannot become pregnant, then, it was reported that she would vote for government-mandated pregnancies and a total ban on abortion — even in cases where a mother's life is threatened. My opponent's views deny basic biology, would endanger the lives of Virginia women facing life-threatening pregnancy complications, and are out of touch," Spanberger said.
"In Congress, we contend with complicated issues, making decisions that impact the health, economic prosperity, and security of our nation and fellow citizens. The Seventh District deserves a thoughtful representative who is focused on addressing Virginia's greatest challenges, not an extreme ideologue," Spanberger said.
This isn't the first slip on abortion rights from Vega, a member of the Prince William County Board of Supervisors and a sheriff's deputy. Answering questions at a campaign event in Stafford County in May, according to audio obtained by Axios, Vega brought up the role of rape and incest in the debate over abortion rights.
"The left will say, 'Well, what about in cases of rape or incest?' I'm a law enforcement officer. I became a police officer in 2011. I've worked one case where, as a result of a rape, the young woman became pregnant," Vega said.
Vega was then asked, according to the Axios report, "I've actually heard that it's harder for a woman to get pregnant if she's been raped. Have you heard that?"
"Well, maybe because there's so much going on in the body. I don't know. I haven't, you know, seen any studies. But if I'm processing what you're saying, it wouldn't surprise me," Vega said. "Because it's not something that's happening organically. You're forcing it. The individual, the male, is doing it as quickly — it's not like, you know — and so I can see why there is truth to that. It's unfortunate."
Vega, in a statement to Axios, which had asked her for comment on her remarks, responded: "I'm a mother of two, I'm fully aware of how women get pregnant."