Giant Food donates 200 hams to the Blue Ridge Area Food Bank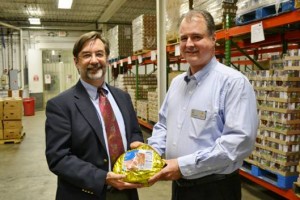 Blue Ridge Area Food Bank CEO Michael McKee (left) is joined by the Charlottesville, Va. Giant Food Nonperishable Manager Rick Cecil (right), during Giant Food's annual ham donation.
The neighborhood grocer is committed to helping families in need in the communities it serves. Giant's donation of 200 hams to the Blue Ridge Area Food Bank is one of five donations to Feeding America food banks across the Mid-Atlantic region, totaling 1,000 hams.
About Giant Food
Giant Food LLC, headquartered in Landover, Md., operates 170 supermarkets in Virginia, Maryland, Delaware, and the District of Columbia, and employs approximately 20,000 associates. Included within the 170 stores are 156 full-service pharmacies. Giant opened the first supermarket in the nation's capital on February 6, 1936. Giving back to the community is a cornerstone that was instilled by the founders more than 78 years ago. The company's core areas of giving include hunger, education, health and wellness, and supporting service members and military families. In 2013, Giant's monetary and in-kind contributions exceeded $13 million, and the nation's capital grocer helped partners provide 64.6 million meals. For more information on Giant, visit www.giantfood.com.
Comments