The Ghosts of Game 5: #Nats go down swinging, with their guys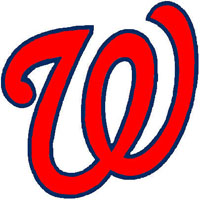 Nothing supernatural here, no curses, none of that nonsense at play. No, the fate of the Washington Nationals was in the hands of Max Scherzer, and then Bryce Harper, their guys.
Hey, if you're going to lose, you might as well lose your way.
And, no excuses here, the Nats lost their way, with their guys.
This one isn't a, well, we ran out of pitchers, woe is us on that. Washington had Gio Gonzalez, a 15-game winner in 2017, on the hill as the starter, with Scherzer, one of the favorites for the Cy Young, among those available for an inning, if needed.
And there's also no, come on, we had all these injuries, let's hang our hats on that as the excuse. For the first time in forever, Dusty Baker had intact his best run-producing lineup.
And yet, here we are, wailing and gnashing our teeth after yet another Game 5 loss, which stings even though you knew what happened was what was going to happen.
You wanted to believe otherwise, that when Michael A. Taylor went deep with a three-run shot in the second to put Washington up 4-1, the demons were finally about to be exorcised. But you also knew that a lot was going to happen between the second and the final out, which you also knew was going to come well past midnight, the witching hour for Nats baseball the past two Octobers.
From a purely aesthetic perspective, the 9-8 loss to the defending World Series champion Chicago Cubs was ugly as sin, the top of the fifth alone playing out like a little league game, complete with a catcher's interference, a strikeout double that scored a run, a hit by pitch with the bases loaded.
That all happened with Scherzer on the hill for what you thought was the first inning of what would effectively have been a four-inning hold, and looked poised to start out that way when he got Kris Bryant and Anthony Rizzo with relative ease.
But then Willson Contreras beat out an infield single on an 0-2 fastball that got a smidge too much of the strike zone, Ben Zobrist blooped a 2-2 pitch to left-center to put two on, Addison Russell ripped the first pitch, an 85 mph changeup, down the left field line for a two-run double, and the angst of 41,000, hanging in the air since pregame, became palpable.
What happened next – the intentional walk, passed ball strikeout that led to another run when catcher Mark Wieters threw the ball into right field, the catcher's interference, the hit by pitch – escalated the situation quickly.
From two out, nobody on, 0-2 count, up 4-3, in an instant it was 8-4, and you caught yourself looking around for ghosts, because you'd seen this happen before, the Nats blowing a Game 5 lead at home, only this time, it wasn't the leaky bullpen, it was the ace.
And it wasn't that Scherzer didn't have his stuff, because he had more than enough stuff, maybe had too much. According to FanGraphs, his average fastball in 2017 was 94.2 mph, but perhaps juiced by the moment, Scherzer was hitting 96 on his fastballs to Bryant and Rizzo to start the inning, 98 on the fastball that Contreras made contact with for the infield single, 96.8 on the fastball that Zobrist blooped into left.
The pitches to Contreras and Zobrist, both with two strikes, got more of the strike zone than you'd like in those situations. Sometimes you lose location when you're getting more velocity.
Was that the case here? Maybe, and maybe I'm also overanalyzing a 154-foot infield single and a 251-foot blooper.
Credit to the Nats, that they didn't fold the tent. After Jayson Werth lost a two-out soft liner off the bat of Russell in the lights for what turned into an RBI double that made it 8-4 in the top of the sixth, Washington scratched back into it, Werth scoring on a wild pitch and Daniel Murphy driving in Harper in the bottom half to make it 8-6.
A Bryant RBI fielders choice pushed the Cubs back up 9-6 at stretch time. Harper scored Taylor on a bases-loaded sac fly in the bottom of the seventh to make it 9-7.
Then in the eighth, Taylor plated Murphy on a two-out single off Chicago closer Wade Davis to make it 9-8, preceding a return from the ghosts.
Jose Lobaton, hitting in the nine hole, followed with a single to center, moving Taylor, the tying run, into scoring position, with the lineup flipped to Trea Turner.
Lobaton, here, is the go-ahead run, but he's not the key. Getting Taylor to touch home plate is the focal point. So when Contreras, known for his trigger finger on snap throws behind baserunners, threw behind Lobaton on a cutter in the dirt that pushed the count on Turner to 2-1, it should not have been close.
It was close. The call on the field was safe, because Lobaton clearly beat the ball to the bag. But upon video replay, his foot came slightly off the bag for maybe a couple-tenths of a second, as Rizzo held the tag.
Replay overturned the call on the field, Lobaton was out, rally snuffed by technology, which maddeningly wasn't available way back in the fifth, on that passed-ball strikeout, when Javier Baez's backswing hit Wieters on the helmet. The call there should have been, dead ball, no runners can advance, so Baez is out, inning over, but the umpires conferred, none of them had seen the contact on the backswing, and the rules of replay say these kinds of plays can't be reviewed.
Nats fans were already pointing to this, to the difficulty in syncing up the various angles on the replay of the Lobaton tag to come up with clear and convincing evidence that he was in fact off the bag, in crying foul even as there were still outs to play with.
Baseball's replay system is a travesty, but, hey, that's another story for another day.
Sean Doolittle pitched an easy 1-2-3 ninth to set the stage for the top of the order to get something going in the bottom of the ninth against a shaky Davis, who had given up a run on two hits and two walks in an inning and a third, and hadn't gone two and a third in a game since 2013, when he was converted from journeyman starter to the close role in Kansas City.
Suddenly, a team that had played loose in getting the game back from the brink of blowout to a one-run game turned tight. Turner nervously offered at a 58-foot Davis first-pitch curve before flying out weakly to center. Werth, who had two hits and walked twice prior, worked a 2-1 count before flailing at a pair of 94 mph fastballs for out number two.
Leaving us with Harper, who one day not too far into the future might be MLB's first $500 million man. Among the game's most disciplined hitters, Harper seemed to get caught up in the moment, missing badly on a bounced curve to go down in the count 0-1, then falling behind 1-2 when he couldn't catch up with a 94 mph fastball.
He took the next two pitches, both fastballs up and out of the zone, to work to a full count, but you knew what Davis was going to do 3-2.
Ryan Zimmerman was on deck, and Zim, who had a solid 2017, and is a key reason the Nats were in position to play this Game 5 at home, both over the course of the season, and what he had done in this series, his three-run homer in Game 2 providing the winning margin, was 0-for-4 last night, with three strikeouts.
Davis had thrown the two up and out of the zone fastballs to set up a 3-2 curve that was going to bounce. If Harper took, he walks to fast, and it's up to Zimmerman.
Harper swung, missed, game over, season over.
Ugly game, but among the best baseball games you will ever see from out one to out fifty-four from a narrative perspective.
It was the kind of game that the Cubs pre-2016 would have lost, and Cubs fans would blame their own ghosts, guys with billy goats, that damn Steve Bartman.
The Nationals haven't been around long enough to have that kind of color. They didn't trade away Babe Ruth to fund a musical, let a Series slip between their legs in a Game 6.
It's actually somewhat an accident of modern-day baseball economics that the franchise has been able to be in the position of blowing several playoff opportunities. Washington isn't anywhere near the biggest market in MLB, and the deal with Baltimore Orioles owner Peter Angelos that allowed the franchise to move from Montreal is far worse than anything President Trump can conjure up with respect to NAFTA and Iran.
Maybe the answer next spring is to stage a Yoga in the Outfield with a guy and a billy goat, a big lefty in a #3 jersey and a nerdy dude with headphones, in the interest of good-natured karma.
They'll get over the hump, eventually. The Cubs did, right?
In our lifetimes, though, would be nice, of course.
Column by Chris Graham
Comments