George Mason surges past NCCU, 78-63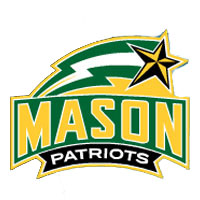 George Mason outscored NC Central by 18 in the second half to ultimately post a 78-63 victory over the Eagles Tuesday night in EagleBank Arena.
With Mason trailing 38-34 at the 18:07 mark of the second half, the Green & Gold put together a massive 35-8 run over the next 12 minutes to build a 23-point lead (69-46) that the team would not relinquish.
"That was the kind of basketball we hope and expect to see," head coach Dave Paulsen said. "I thought every guy was fully committed to engaging on the defensive end. When we take care of the ball, we're a pretty good offensive team. It's great to get Jarred [Reuter] going too – that's what he's capable of doing."
Reuter – a redshirt junior – had a breakout game for Mason, shattering his previous career high with 24 points on 10-of-13 shooting. The Marion, Mass., product also was 5-of-5 from the line and grabbed three rebounds in 22 minutes of work.
Junior Justin Kier chipped in 12 points and made 4-of-7 field goal attempts, while fellow junior Ian Boyd added 11 points (4-8 FG) and grabbed five rebounds in 21 minutes.
Senior Otis Livingston II dished out a team-high seven assists and committed 0 turnovers in 23 minutes on the floor.
The Patriots shot 51 percent for the game – including a 55.6 percent mark in the second half – and held a +8 (17-9) edge in turnovers. The team's nine turnovers marked a season low and the Green & Gold committed just one miscue in the deciding second half.
Mason used that advantage to enjoy a +15 (26-11) edge in points off turnovers for the game. The Patriot bench also outscored the NCCU bench, 27-3, on the night.
The Eagles jumped out to an early 14-4 advantage over the first six minutes, before Mason used a 9-2 run to take a 17-16 lead at the 8:40 mark of the first half.
The Patriots went up four (24-20) after a pair of free throws from Reuter and took a 29-25 lead on a 3-pointer from Boyd with 3:51 to go in the stanza. NCCU closed the half on a 7-0 run to take a 32-29 lead into the break.
But Mason used its 35-8 run early in the second half to pull away and head to Florida with a W.
Mason hits the road for a Thanksgiving weekend berth in the Emerald Coast Classic. The Patriots open the event in Niceville, Fla., with a Friday (Nov. 23) matchup against Cincinnati. The 7 p.m. contest will be televised on CBS Sports Network. Mason will then play either Baylor or Ole Miss on Saturday (Nov. 24).
Comments