George Mason posts 85-67 win over Dayton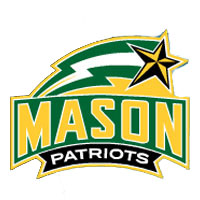 George Mason (12-14, 6-7) played arguably its most complete game of the season in an 85-67 Valentine's Day triumph over Dayton inside EagleBank Arena.
After a back-and-forth first half, Mason took a lead at the 3:31 mark it would not relinquish. The Patriots used an 11-2 run to close the period. Then, the Patriots shot 53.8 percent in the second half and made 6-of-7 3-pointers to lead by as many as 24 and ultimately cruise to an 18-point win.
The Patriots held Dayton (11-14, 5-8) to just 38.2 percent shooting in the game, including a paltry 26.9 percent from beyond the arc.
The Green & Gold are now tied with Duquesne and Saint Joseph's for seventh place in the Atlantic 10 standings.
Mason has won two straight and three of its past four contests.
"This is a great win for our guys," head coach Dave Paulsen said. "We defended at a very high level for the vast majority of the game. That was the key. We had an excellent game plan and did a good job with our transition defense. We also took care of the ball and took good shots. It's really gratifying that we've had back-to-back good defensive performances from our team. That's what we want to focus on – to get our energy from the defensive end. Our guys are starting to make some progress in that regard."
Junior Otis Livingston II put together a vintage performance that Patriot fans have come to expect throughout this season. He poured in a game-high 29 points and made a career-best seven 3-pointers on just nine attempts (.778). He made 10-of-15 shots overall and dished out six assists in 34 minutes.
With his sixth assist, Livingston II passed John Niehoff (1980-84) and moved into eighth place on the Mason all-time assists list. He's now up to 335 dimes in his career.
Sophomore guard Justin Kier also played at a high level against the Flyers, posting 14 points (4-9 FG, 6-7 FT) and distributing six assists to go along with five rebounds.
Freshman Goanar Mar chipped in 12 points and made 2-of-3 3-pointers, while sophomore Ian Boyd added 10 points on 4-of-7 shooting and six rebounds.
The efficient Patriot offensive performance helped the Green & Gold limit the Flyers' excellent transition offense. Dayton managed just two fastbreak points on the night and generated only 10 points off turnovers.
On the evening, Mason shot 50.9 percent from the floor and made an A-10 season-best 52.6 percent (10-19) of its 3-point attempts.
The Patriots held a 39-26 edge on the glass and outscored the Flyers 34-26 in the paint.
Dayton scored nine of the first 11 points of the game and led 14-8 at the 13:23 mark of the first half. Mason responded with an 8-0 spurt to take its first lead of the contest (16-14) with 8:35 to go in the stanza.
The score knotted up at 16-16, 18-18 and 25-25, before the Patriots put together that key 11-2 run to close the half. The spurt included five points from Livingston II.
Mason took a 36-27 edge into the break.
In the second half, Dayton cut the lead to 38-31 before the Patriots surged back to go up 11 (42-31) on a Boyd lay-in at the 16:50 mark.
Livingston II then completely took over the contest, scoring 11-straight points – including a trio of 3-pointers – to blow the lead out to 18 (57-39) with 12:31 to play.
Mason extended the edge to 23 (66-43) on a 3-pointer from Javon Greene and led by a game-high 23 (78-54) on a triple from Livingston II at the 3:01 mark.
With the victory, Mason has now won its past seven Valentine's Day contests and 10 of their last 11 on Feb. 14.
Over the past four games, the Patriots are holding opponents to just 68.5 points per game and 39.6 percent shooting.
The Green & Gold now hit the road for a pair of contests in the City of Brotherly Love. Mason plays at La Salle on Saturday at 2 p.m. before battling Saint Joseph's in Philly on Feb. 21 (7 p.m.).