George Mason holds on for big win at Richmond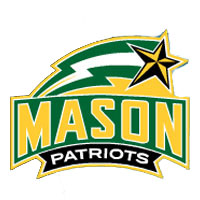 George Mason (10-13, 4-6) shot nearly 50 percent in the second half to build a sizable lead, then held on down the stretch to pick up an important 79-75 win at Richmond on Saturday afternoon inside the Robins Center.
Mason led 35-31 at the half and by 15 (58-43) with 12 minutes to go. The Patriots held a 71-64 edge with two minutes to play, but ferocious Richmond (8-14, 6-4) pressure led to a series of turnovers that created opportunities for the Spiders to move within two with five seconds left.
But Mason held on for the victory and is now 6-0 in games decided by five points or less this season. The Patriots also captured the win without the services of second-leading scorer Jaire Grayer, who has been hampered for the past few games with a foot sprain.
"This is a really gratifying win – we needed it. I give our guys a lot of credit," head coach Dave Paulsen said. "They really fought and competed. We made enough plays down the stretch. We did a good job on the glass and this was one of our best defensive efforts of the year."
The victory moves Mason to 4-6 in A-10 play and into a tie for eighth place in the league. It also marks the Patriots' third road victory of the season.
Mason's win snaps a five-game winning streak for Richmond and marks the Patriots' sixth-straight victory over the Spiders.
Junior Otis Livingston II continues to play exceptional basketball of late, as the Linden, N.J., product led the Green & Gold with 22 points and a game-high six assists in 37 minutes. He also made 7-of-8 free throws, including four big ones with under two minutes to go. He has posted 20+ points in an impressive seven of 10 A-10 contests in 2017-18.
Freshmen Goanar Mar and Javon Greene produced at a season-best level, as the duo combined for 31 points and 18 rebounds. Mar tallied 17 points on an efficient 6-of-8 shooting. He also made a career-best four 3-pointers on six attempts and grabbed nine rebounds in 36 minutes.
Greene tallied 14 points – his highest output since Dec. 3 at No. 11 Auburn – and compiled new career highs in rebounds (9) and steals (6) in the game.
Sophomore Justin Kier put up an all-around impressive line of 16 points, nine rebounds, four assists and three steals while fellow sophomore Ian Boyd returned to the starting lineup in Grayer's absence and tallied six points and three rebounds.
Mason held the Spiders to just 38 percent shooting in the game – marking a season low for a Patriot opponent – and 19.0 percent from the 3-point line. That mark is Mason's second best defensive effort from beyond the arc in 2017-18.
The Patriots held a sizable +7 (46-39) edge in rebounding for the game and turned 11 offensive rebounds into 10 second-chance points.
Mason scored four of the game's first six points, but Richmond used a 10-2 run from there to build a 12-6 edge at the 13:53 mark of the first half. The Patriots moved back within one (15-14) on a jumper from Javon Greene, but again, Richmond rallied with a 7-1 spurt to extend the edge to seven (22-15).
With Richmond up 24-17, Mason came storming back, utilizing a 9-2 surge to tie the game at 26-26 at the 4:41 mark.
Richmond went back up 29-26, but the Patriots closed the half on another 9-2 spurt to build a 35-31 edge at the break. That run included seven points from Livingston II.
The Spiders moved within two (38-36) at the 17:46 mark of the second half, but from there, the Patriots used a 13-3 run to extend its lead to 14 (53-39) with 13:14 to play. The lead ballooned to 15 (58-43) on a Kier lay-in with 11:56 to go, but over the next seven minutes, Richmond began to claw its way back into the game.
The Spiders cut it to seven (65-58) with 4:35 left and after Mason went back up 10 (70-60) with 2:33 to go, the Spiders erased six points of the deficit in 30 seconds to make it 71-67 Mason with 1:50 to go. Richmond was within two at 75-73 and 77-75, but each time Livingston II hit a pair of free throws to ensure Mason would escape with the victory.
Mason remains on the road for a Wednesday (Feb. 7) showdown at Fordham. Tip-off in the Bronx is scheduled for 7 p.m.