George Mason falls at hot-shooting Fordham, 67-66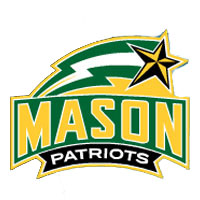 George Mason (10-14, 4-7) held a double-digit second half lead, but Fordham hit a barrage of 3-pointers to rally past the Patriots 67-66 on Wednesday night inside historic Rose Hill Gymnasium.
Mason led by 17 (33-16) in the first half and took a 10-point lead (33-23) into the break after an outstanding defensive half. But Fordham hit 10 second-stanza 3-pointers and the Patriots committed 21 turnovers on the evening as the Rams ultimately secured the win at home.
"This is a very disappointing result," head coach Dave Paulsen said. "You have to give credit to Fordham. They bounced back and played well offensively in the second half. The biggest issue was that we had 21 turnovers – we just have to take care of the ball. We need to bounce back and get ready for our homecoming game Saturday against GW."
Junior Otis Livingston II led the Green & Gold with 16 points, seven assists and three rebounds, while sophomore Ian Boyd added 15 points (6-10 FG), seven rebounds and three assists in 27 minutes for the Green & Gold.
Freshman Javon Greene added 11 points, hit 3-of-5 3-pointers and grabbed six rebounds and Justin Kier chipped in eight points and eight rebounds for the Green & Gold.
Mason held a sizable +13 (47-34) edge on the glass and outscored the Rams in the paint, 26-20. The Patriots also held a 27-3 edge in bench scoring, but Fordham turned Mason's 21 turnovers into a 18-10 edge in points off turnovers for the game.
Mason started the game 1-of-8 from the floor with seven early turnovers, but the Patriots adjusted to the Fordham pressure defense and began to adapt and adjust. After Fordham started 3-of-5 from the floor, Mason limited the Rams to an 0-of-14 stretch as the Patriots used an impressive 21-0 run to build a 25-8 lead at the 6:03 mark of the first half. The Patriots held the Rams scoreless for close to nine minutes during the surge.
Back-to-back 3-pointers pulled Fordham back within 11 (25-14), but Mason pushed it back out to 17 (33-16) on a 3-pointer from Greene with 2:41 to play in the half. Fordham closed the period on a 7-0 run as Mason took a 10-point edge (33-23) into the break.
The 23 first-half points for Fordham marked a season-low for a Patriot opponent. Mason held the Rams to 31 percent shooting in the half and just 18.8 percent (3-16) from long distance.
Mason extended the lead to 12 (36-24) on a 3-pointer from Greene, but Fordham hit a trio of triples and started to find its offensive groove during a stretch that cut the Mason lead to six (41-35) at the 15:15 mark of the second half.
The Patriots went back up 11 at 46-35, but the Rams rattled off a 12-2 spurt to pull within one (48-47) with 10:32 to go in the game.
Mason went back up four at 51-47, 53-49 and 56-52, but again Fordham rallied – this time with a 6-0 spurt – to take a 58-56 lead with 6:06 remaining.
The Rams went up five (67-62) with 2:37 left, but Mason rattled off two straight buckets to get back within one (67-66) with 40 seconds to go. After a defensive stop, Mason had a chance to take the lead with less than 15 seconds to go.
Javon Greene drove to the hole and there was no whistle with the contact, as Fordham grabbed the rebound. The Patriots got one last chance down 67-66 with three seconds left, but Livingston II's halfcourt heave was no good as Fordham escaped with the win.
Mason returns home for a Revolutionary Rivalry matchup with George Washington on Homecoming Weekend. Tip-off on Saturday (Feb. 10) between the Patriots and Colonials is scheduled for 4 p.m. The game will be televised in markets across the nation on Stadium.