George Mason drops Saturday contest to VCU, 84-76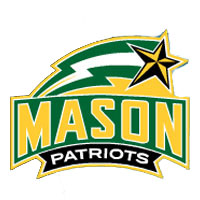 George Mason could not overcome an outstanding rebounding effort from VCU during an 84-76 setback to the Rams on Saturday afternoon inside EagleBank Arena.
VCU (14-8, 6-4) controlled the glass, posting a +23 (50-27) advantage – including 22 offensive rebounds. The 25-4 edge in second chance points for VCU helped the Rams jump out to a 41-29 halftime lead. Mason (9-12, 3-5) could not move closer than seven in the second half, but held a +4 (47-43) scoring edge in the second stanza.
"It's hard to get beat 25-4 on second chance points, shoot 4-for-20 from 3 and win at home," head coach Dave Paulsen said. "Those are the glaring numbers that stick out. I give our guys credit. I thought we fought the entire way and that's been a theme for this team. Our guys fight back, scratch and claw. We can't use depth and youth as an excuse. We have enough to win, but we don't have an ounce more. We have to have our guys performing at a high level to be successful."
Junior Otis Livingston II scored 20 of his team-high 23 points in the second half and made 6-of-10 field goals to lead the Green & Gold.
Fellow junior Jaire Grayer added his third-straight double-double with 14 points and 13 rebounds in 34 minutes. He's averaging 14.0 rebounds over his past two games for the Patriots.
Two other players scored in double figures for the Green & Gold, including freshmen Goanar Mar (12 points, 5 rebounds, 3 assists) and AJ Wilson (10 points, 2 blocks).
Both teams shot 42 percent for the game, but VCU held the advantage on the glass and posted a 32-13 edge in bench scoring for the contest.
Mason held VCU to just 29.6 percent (8-27) from 3-point range, but the Patriots could only hit 4-of-20 triples (.200) on their end.
Mason took an early 7-6 lead, but VCU used a 10-1 run to move ahead by eight (16-8) at the 12:50 mark of the first half. Mason fought back within five (22-17) on a dunk from Wilson with 7:19 to play in the stanza, but VCU used a 9-0 spurt this time to increase the lead to 13 (36-23) with 2:23 remaining in the period. The Rams took a 41-29 advantage into the half.
VCU extended the edge to 17 (50-33) just three minutes into the second half, but the Patriots would not back down, as Mar proceeded to put together a 9-0 run on his own to push Mason back within seven (50-43) with 14:38 to go.
With VCU leading 53-44, the Patriots had a number of chances to cut into the lead, but could not capitalize, with the Rams moving it back out to 15 (61-46) at the 10:31 mark. Mason climbed back to within 11 (68-57) with 5:35 left, but the Green & Gold could not get closer than eight for the remainder of the game.
Mason remains at home to take on St. Bonaventure on Wednesday (January 31) at 7 p.m. in EagleBank Arena. The game will be broadcast on Stadium, which features local television affiliates across the nation, as well as an online stream.