George Mason drops home finale to Richmond, 93-79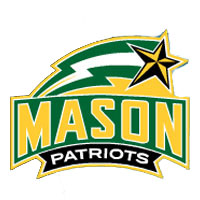 George Mason (15-16, 9-9) could not withstand a shooting barrage from the visiting Richmond Spiders, falling 93-79 on Saturday night inside EagleBank Arena.
Richmond (10-19, 9-9) shot over 60 percent in both halves, and used a 62.1 percent mark (18-29) in the first half to build a 45-32 lead at the break. The Patriots cut the led to four (58-54) with 12:08 to play in the contest, but Richmond used an 8-2 run to get it back to 10 (66-56), and Mason could not move closer for the remainder of the game.
"Richmond played great tonight," head coach Dave Paulsen said. "There wasn't a guy on our team that didn't give great effort. I thought our effort and intensity was better than it was a week ago against UMass. In terms of execution, there were some defensive blunders, but they hit a lot of tough shots. We dug ourselves a big hole and fought back to cut it to four. But we expended a lot of energy to do that."
Mason finishes the regular season with nine A-10 wins, matching last year's program-record total.
Picked 10th in the A-10 preseason poll while sporting the 11th-youngest team in the nation, the Patriots will enter the postseason as the No. 5 seed in the Atlantic 10 Tournament. It marks the highest-ever seed for Mason in the annual league championship. The Patriots will earn a first round bye and advance to Thursday's second round. Mason will play the winner of No. 12 La Salle and No. 13 UMass on Thursday at 2:30 p.m. on NBC Sports Network. The A-10 Tournament is held at Capital One Arena in Washington, D.C., this season.
On Saturday, junior Otis Livingston II led the Patriots with a team-high 21 points on 8-of-14 shooting. He also dished out five assists and grabbed four rebounds in 36 minutes.
In addition, three Patriot freshmen posted 10 points in the game. Freshman forward Greg Calixte made all five of his shots and grabbed a pair of rebounds, while redshirt-freshman AJ Wilson posted 10 points, four rebounds and made all four of his attempts from the charity stripe.
Javon Greene chipped in 10 points on 3-of-5 shooting.
Mason shot 51.7 percent (30-58) for the game, including a 61.3 percent mark from 2-point range. But the Patriots hit just 3-of-14 3-pointers and trailed Richmond 12-4 in fast break points.
The Patriots and Spiders played to a 12-12 tie, before the Spiders used a 12-0 run over the next five minutes to build a 24-12 edge at the 11:07 mark of the first half. Richmond used another 7-0 spurt to extend the lead to 16 (33-17) with 6:36 to go in the stanza. The Spiders took a 45-32 lead into the break.
Richmond led 50-38 at the 17:34 mark of the second half, but from there, Mason used a 9-2 run – highlighted by six points by AJ Wilson – to move within five (52-47) at the 14:59 mark of the second half. The Patriots cut it to four (58-54) on a tip-in from Jaire Grayer with 12:08 to play, but the Spiders scored eight of the next 10 points to go back up 10 (66-56) with nine minutes to go.
Mason moved back within six (66-60) on a Greene lay-in with 7:59 left, but that's as close as the Patriots would get for the remainder of the game.