Gameday Central: #2 Virginia faces #4 Duke in ACC showdown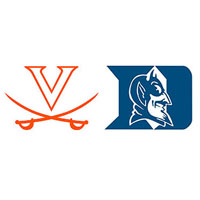 AFP editor Chris Graham provides live coverage as No. 2 Virginia (19-1, 8-0 ACC) travels to No. 4 Duke (18-2, 6-2 ACC). Tipoff at Cameron Indoor Stadium is set for 2 p.m. Click here for broadcast info, game previews and a live game blog beginning at 2 p.m.
Broadcast Information
The Virginia-Duke contest will be televised on CBS, and broadcast on the Virginia Sports Radio Network, VirginiaSports.com and Virginia Athletics mobile app on iTunes or Android.
Live statistics will be located on VirginiaSports.com and the Virginia Sports app.
Key Players: Duke
Likely ACC player of the year and rookie of the Marvin Bagley III (21.6 ppg, 11.5 rebs/g, 60.7% FG) can do just about everything, scoring in the post, leading fast breaks at 6'11", really only missing a consistent jumper, which will come sometime after his name is called first in the NBA draft in June.
If not for Bagley, 6'10" power forward Wendell Carter (14.4 ppg, 9.2 rebs/g, 61.5% FG) would be the talk of this year's Duke one-and-done class. Carter is the better defensive player of the two – ranked 16th in the ACC in defensive rating, the only Blue Devil in the top 20, largely on the strength of his 2.0 blocked shots per game, which ranks seventh in the ACC.
The graybeard of the Duke rotation is 6'5" senior guard Grayson Allen (15.2 ppg, 43.8% FG, 38.6% 3FG), who has demonstrated the capacity for rising to the occasion when necessary.
Allen is joined in the backcourt by another pair of freshmen – 6'6" shooting guard Gary Trent Jr. (14.7 ppg, 43.2% FG, 43.1% 3FG) and 6'3" point guard Trevon Duval (11.5 ppg, 6.0 assists/g, 45.9% FG).
Key Players: Virginia
Kyle Guy leads the team in scoring at 15.2 points per game and has reached double figures in 17 games, including a career-high 29 points at VCU (11/17/17), 22 vs. Syracuse (1/9/18) and 21 vs. Lehigh (12/2/17)
Devon Hall has averaged 12.7 points, which is 4.3 points higher than last year's average of 8.4 points.
Isaiah Wilkins is averaging team-highs in rebounds (6.0), blocked shots (1.7) and steals (1.4).
Ty Jerome is averaging 9.3 points and a team-leading 3.2 assists.
Jack Salt has chipped in 4.0 rebounds per game and 17 blocked shots.
Redshirt freshman De'Andre Hunter (8.0 ppg) has reached double figures in five of the last seven games, including team highs at Georgia Tech (17) and Virginia Tech (14).
Graduate transfer Nigel Johnson is averaging 5.8 points and Mamadi Diakite has added 5.0 ppg & 3.2 rpg.
Keys to the Game: Virginia
Pack integrity: Teams that have the most success against Virginia's Pack-Line defense are those that attack with dribble-drives. The Pack-Line generally has success against teams that feed the post due to the post-to-post doubles that coach Tony Bennett uses to try to force the ball back out of the lane. Duke has the three-point shooters to convert openings on the perimeter (hitting 37.3 percent of threes in ACC play, third in the conference), but even a couple of early makes won't translate over 40 minutes. The focus needs to be on getting the ball back out of the post.
Attack the midrange: Duke will start out in man and then go to 2-3 zone when the man doesn't work anymore, and that's inevitable. Virginia's mover-blocker should draw Bagley and Carter out from under the basket and might entice the foul-prone Carter into early foul trouble. Isaiah Wilkins and De'Andre Hunter will need to hit a couple of midrange jumpers early to open up the lane for dribble-drives and curl cuts for the guards. That success will push Coach K into going zone, at which point Virginia goes zone offense, with Wilkins, Hunter and Ty Jerome setting up in the high post, the weak spot in a 2-3. The key will be attacking that spot, around the foul line, with short jumpers, dribble-drives and kick-outs to the perimeter, and Hunter, in particular, with his athleticism, finishing at the rim.
Chairmen of the boards: Duke leads the nation in offensive rebounding percentage (39.3 percent), with Carter averaging 3.0 per game, and Bagley averaging 4.0 per game. You can't post-to-post double out of a stickback situation, so keeping those guys off the offensive glass will be incumbent. Virginia had an atrocious stretch in the wins over UNC (which rebounded 48.7 percent of its misses), Syracuse (51.4 percent) and NC State (40 percent), but has, er, rebounded of late (Georgia Tech 26.9 percent, Wake Forest 20 percent, Clemson 18.8 percent). But, yeah, none of those teams has elite offensive rebounders like Bagley and Carter.