Game Preview: What to expect from #1 Virginia, Clemson at ACC Tournament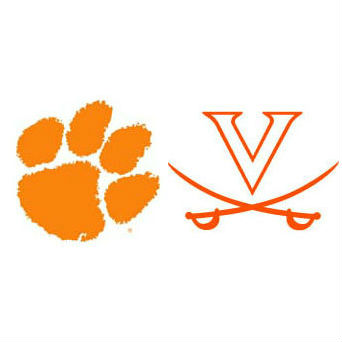 You can almost just go ahead and say, throw out the game tape from the 61-36 Virginia win over Clemson back in January.
That one, you might remember, was Clemson's first game playing without Donte Grantham, perhaps the Tigers' best player, and their second-leading scorer, lost for the season after tearing his ACL in a win over Notre Dame.
First games after losing a top star can be tough in terms of the feeling-out process, and that was certainly the case for Clemson in Charlottesville, which scored just 13 points in the final 26 minutes after jumping out to an early seven-point lead.
The Tigers (23-9) have gone 7-4 since, including Thursday's 90-82 win over Boston College in the ACC Tournament quarterfinals.
Brad Brownell still has four double-digit scorers, led by Marcquise Reed (16.3 ppg, 44.2% FG, 38.2% 3FG), but Clemson, like Virginia, hangs its hat on what it does on the defensive end.
The Tigers are third in the ACC in conference games in adjusted defensive efficiency, according to KenPom.com, led by center Elijah Thomas, the third-best rated defender in the ACC, and fourth in blocked shots (2.3 per game).
Thomas was also key to the little bit of offensive success that Clemson had early in the game in Charlottesville, serving as a sort of point-center in the high post, with the Tigers running guards through the lane on backdoor cuts through the vacated lane to create open looks in the paint and on hockey assists to shooters on the wing.
Virginia was eventually able to shut that down, and Clemson wasn't able to come back with an answer, ergo the 13 points in the final 26 minutes.
You have to figure that Brownell gave the idea some thought between then and now, so for now, anyway, let's consider the January game an anomaly, and expect some wrinkles to the game plan.
Keys to the Game: Virginia
Continue touching the paint: Virginia was 21-of-32 in the paint in its 75-58 win over Louisville on Thursday. The more UVA touches the paint, as coach Tony Bennett likes to term it, the better the offense looks in terms of productivity.
Backside help on backdoors: I still expect Clemson to try to run its high-post, backdoor action that worked for 14 minutes back in January, at least at the outset. The approach pulls UVA's post defense away from the hoop and forces its guards to maintain discipline while chasing. Take that away early, and Clemson may stagnate as it did in JPJ as it tries to generate offense with another strategy.
Limit turnovers: The 'Hoos had 11 of them in the January win. That's a lot in a 62-possession game. UVA was a lot cleaner Thursday against Louisville, with seven turnovers in 58 possessions.
Story by Chris Graham