Game Preview: #8 UVA hosts #12 UNC in Saturday ACC showdown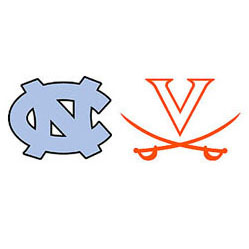 Defending national champ North Carolina hasn't won in Charlottesville since 2012, dropping four straight at #8 UVA, including an ugly 53-43 loss at JPJ last February.
UNC (12-3, 1-1 ACC) is still figuring itself out. Grad transfer Cam Johnson, expected to fill the void left behind by talented wingman Justin Jackson, has played just four games after knee surgery in November, and is still getting his legs back under him, averaging 10.5 points a game in 23.3 minutes per game.
March Madness breakout star Luke Maye has built on his success from last spring, putting in a team-best 18.1 points and 10.5 rebounds per game, shooting 51 percent from the field and 45.5 percent from three-point range.
Point guard Joel Berry II has stepped up more in the scoring department, averaging 17.9 points per game, up more than three points per game over last season and more than five points per game better than his sophomore output.
But Berry's shooting percentage is a career-low 39.1 percent, and his assists are down to just 3.0 per game.
The Tar Heels are still scoring 84.9 points per game, 25th-best in the nation, and 1.148 points per possession, 22nd-best. But it sure seems like something is … not exactly missing, but just not running quite right.
That's most evident in the results side of the ledger. After racing out to a 10-1 start, the loss an ugly 63-45 setback to Michigan State in November, Carolina is just 2-2 in its last four, including a loss at home to Wofford, a narrow home win over Wake Forest and a loss at #24 Florida State on Wednesday.
Over that stretch, the Heels are shooting just 40.4 percent from the field, and are uncharacteristically hoisting an awful lot of threes – 39.3 percent of their shots from the field in the last four are three-point attempts, compared to 31.2 percent of their shots being threes on the season as a whole.
That's not exactly the mindset you want to have going into a game against Virginia's Pack-Line, which aims to take away dribble drives and uses post-to-post doubles to get the ball out of the hands of big men, enticing you to take threes as the only best option.
UVA opponents shoot 41.6 percent of their shots from three-point range, and connect on just 29.9 percent of those shots, 19th-best in the nation.
Keys to the game
Clamp down on Luke Maye: The 6'8" junior is the classic stretch-four that can give the Pack-Line fits. Adept in the paint, Maye is dangerous on pick-and-pops with his range from three. Isaiah Wilkins, the best defender in the ACC according to Sports-Reference.com's defensive efficiency rating, gets the assignment. Strength vs. strength there.
Keep the Heels off the offensive glass: North Carolina hasn't been what it has been on the offensive boards. This year, UNC is grabbing 33.8 percent of the rebounds of its own misses, 30th-best in the nation, but last year, the Heels rebounded 40.2 percent of their misses, best nationally, and otherwise just absolutely ridiculous. Virginia ranks 12th nationally this season in defensive rebounding percentage, hauling in 79.2 percent of opponent's misses.
Broadcast Information
The Virginia-North Carolina contest will be televised on ESPN and streamed on ACC Network Extra (ESPN3.com) and ESPN App, and broadcast on the Virginia Sports Radio Network, VirginiaSports.com and Virginia Athletics mobile app on iTunes or Android.
Live statistics will be located on VirginiaSports.com and the Virginia Sports app.
 Story by Chris Graham