Game Preview: #5 Virginia will not overlook Virginia Tech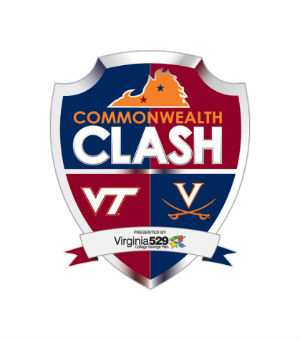 Last January, Virginia had to rally from 10 points down in the final 10 minutes to beat Virginia Tech in Blacksburg.
Two years ago, the 'Hoos were down 11 in the second half before coming back.
It's a cliché, but apt in this one – throw out the records when these rivals meet.
"No matter what their team is supposed to be ranked or anything like that, anytime we go into Virginia Tech, it's always a close game," UVA senior forward Anthony Gill said. "They always get up for us, and it seems to be a good game no matter what. We just have to be ready from the beginning and, like Malcolm said, rest our bodies and be willing to do the little things in order to get the win."
The Hokies (9-5, 1-0 ACC) beat N.C. State, 73-68, in overtime on Saturday in their ACC opener. The win was a nice turnaround for a team that was blown out by #19 West Virginia, 88-63, at home on Wednesday.
Tech trailed by as many as 16, and were still down 10 with 10 minutes left before rallying to send the game to overtime on a three-pointer by Seth Allen with 17 seconds left.
Allen, a Maryland transfer, is leading the Hokies in scoring (14.6 points per game), though he has struggled with his shooting (39.2 percent from the field, 27.4 percent from the three-point line).
Forward Zach LeDay, a 6'7" junior, averages 14.2 points and a team-best 9.6 rebounds per game, though he is shooting just 45.5 percent from the field.
Watch out for sharpshooter Justin Bibbs, a 6'5" sophomore who is scoring 11.9 points per game and is shooting 56.9 percent from three-point range.
Game Notes
The Hokies as a team shoot 44.9 percent from the field and 33.0 percent from three-point range, and average 1.038 points per possession, 146th among the 351 teams in Division I.
Defensively, Tech allows opponents 1.003 points per possession, 123rd in D1.
Tech games play to 71.4 possessions per game, 96th in the nation. Virginia games play to 62.1 possessions per game, 351st, dead last, in the country.
UVA is shooting 50.5 percent from the floor, 11th best in the country, and 41.1 percent from three-point range, 13th in the country.
The Cavs score 1.195 points per possession, best in the nation, and allow opponents to score .933 points per possession, 15th best in D1.
Malcolm Brogdon (fifth) and Anthony Gill (sixth) are both ranked in the Top 10 of the KenPom.com Player of the Year standings.
– Preview by Chris Graham
Comments