Game Preview: #3 Virginia hosts NC State on ACC Sunday Night Hoops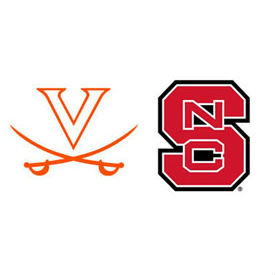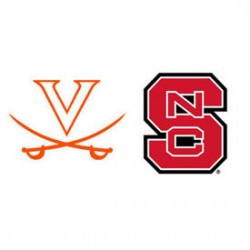 Third-ranked Virginia might be the hottest team in the ACC right now, except for NC State, which is coming two pretty high-profile wins over ranked teams.
The Jekyll and Hyde Pack (12-5, 2-2 ACC) were their Hyde selves back on Jan. 3 in an ugly 88-58 loss at Notre Dame that dropped them to 0-2 in the ACC. But then came last weekend's 96-85 win over then-#2 Duke that had State scoring an otherworldly 1.28 points per possession, then Thursday's 78-77 win over #19 Clemson, that had the Tigers storming back from being down 12 inside two minutes to go before Gabe DeVoe missed the third of a three-shot foul with two-tenths of a second to go.
The emergence of 7-foot sophomore forward Omer Yurtseven has been key in this recent stretch for the Wolfpack. Yurtseven had a career-high 29 points and connected on 5-of-6 from three-point range in the win over Clemson, after having made just six threes all season long going in.
The big man also had 16 points in the win over Duke, putting him at 22.5 points per game on 62.5 percent shooting over his last two games. He had been averaging 11.4 points per game on 61.7 percent shooting coming in,
Impressive, that his shooting has improved slightly with a serious uptick in usage – Yurtseven has averaged 16 shots per game over the last two, after averaging 7.7 per game over the Pack's first 15 games.
State also may get back point guard Markell Johnson, who has been cleared to return after the dismissal of a felony assault charge against him in his home state of Ohio. Johnson started the season's first 10 games, and averaged 8.7 points and 6.6 assists per game on 46 percent shooting.
Keys to the game
Tempo: NC State averages 72.0 possessions per game, 59th best in the nation. Virginia is still the slowest tempo team nationally, averaging 60.3 possessions per game. The talk during last night's State-Clemson broadcast was about the Pack needing to force UVA into an up-tempo game. Good luck with that. North Carolina, which averages 73.7 possessions per game, had 58 against Virginia in a 61-49 loss in Charlottesville on Jan. 6.
Who guards Yurtseven? Based on height and physicality, the assignment may go to Jack Salt, but Salt might be challenged to keep up with Yurtseven on the perimeter. The 7-footer is just as dangerous in the paint, shooting 60.6 percent on two-point shot attempts. Isaiah Wilkins is the best post defender in the ACC, but at 6'7", he'd be giving up five inches to Yurtseven. Also expect to see Mamadi Diakite get time spelling Salt.
Does State's size limit minutes for De'Andre Hunter? The Pack front line goes 6'6" with Torin Dorn (13.1 ppg, 7.2 rebounds/g), 6'8" with Abdul-Mailk Abu (7.2 ppg, 4.8 rebs/g) and 7'0" with Yurtseven (12.7 ppg, 6.8 rebs/g), with 6'8" Lennard Freeman (11.3 ppg, 5.4 rebs/g) coming off the bench. Hunter, a 6'7" freshman, has been Virginia's third-best scorer over the past three games (13.0 ppg), but he has been getting the bulk of his minutes at the four. State's size in the post may limit his minutes there, meaning Hunter's minutes would come more at the expense of the backcourt trio of Kyle Guy, Devon Hall and Ty Jerome.
Preview by Chris Graham