Game Preview: #2 Virginia faces big test, literally, at Florida State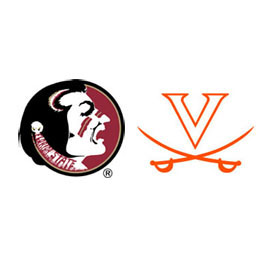 Florida State is … huge. The 14th-biggest team in the country, according to KenPom.com, the Seminoles (17-6, 6-5 ACC) can go 6'8", 7'0" and 7'4" on the front line, with just one rotation regular under 6'4".
But the biggest of the big guys, Chris Koumadje and Ike Obiagu, aren't offensive weapons, really at all. Koumadje, a 7'4" junior, averages 8.9 points and 5.5 rebounds in 19.8 minutes per game, and Obiagu, a 7'0" freshman, averages 2.5 points and 2.6 rebounds in 11.4 minutes.
And it's not like either is necessarily a force defensively. Koumadje's defensive rating is 98.5, Obiagu's 93.9. All eight members of UVA coach Tony Bennett's rotation have D ratings of 90.3 or better.
FSU's best players are its swingmen. Terance Mann lead the 'Noles in scoring (15.5 ppg, 59% FG, 27% 3FG), and at 6'6" has the ability to break down defenders and get into the lane.
Braian Angola-Rodas, also 6'6", scores 14.1 points per game, and is Florida State's best threat from deep (41.4 percent, on 5.6 attempts per game).
Phil Cofer, a 6'8" senior, does a little bit of everything, scoring 13.4 points per game, shooting 49.4 percent from the floor and 39 percent from three, and pulling down 5.5 rebounds per game.
Coach Leonard Hamilton will go nine or 10 deep, depending on matchups, and like many Virginia opponents will try to push pace. FSU averages 71.8 possessions per game, 37th-best in the country.
Virginia (22-1, 11-0 ACC) averages 59.7 possessions per game, 351st, and dead last, in the nation.
The team's have split their last four meetings over the past three-plus seasons, and the games have averaged 60.5 possessions per game.
Florida State has won four of its last five, with wins on the road at Virginia Tech and Louisville and at home against Georgia Tech and Miami. The lone loss in that stretch was a 76-72 setback at Wake Forest last week.
FSU split its season series with both Miami and Louisville, defeated North Carolina by one at home and lost at Duke by seven in a game that was tied into the final three minutes.
Keys to the Game: Virginia
Stay out of foul trouble, while also pressuring FSU: Florida State leads the ACC in conference play in free throw attempts, averaging just shy of 25 charity tosses per game. The 'Noles are just 10th in free-throw shooting (71.5 percent), but they get opponents into foul trouble. Flip side: FSU also leads the ACC in conference games in personal fouls, meaning UVA will get its chances to score points at the stripe as well.
Protect the paint: Virginia did an excellent job defending Syracuse's dribble-drives in the 59-44 win in the Carrier Dome on Saturday. The strategy was to have the bigs linger after hedging on pick-and-rolls to clog the lane, basically daring the Orange to pass it to their big men, knowing they wouldn't, and it worked. FSU's bigs are as offensively challenged as their counterparts in upstate New York, so that approach could work again against Florida State's talented perimeters.
Road warriors: Virginia is 5-0 on the road in the ACC. You can expect that the 'Hoos will get Florida State's best shot, with NCAA Tournament resumes in focus with the calendar flip to February. The homecourt advantage for FSU isn't as pronounced as it is elsewhere in the ACC, but the relative lack of enthusiasm in the Leon County Civic Center can be just as tough at times. UVA might need to generate its own excitement and energy.
Story by Chris Graham