Game Preview: #1 Virginia, potential #1 seed North Carolina face off for ACC Tournament title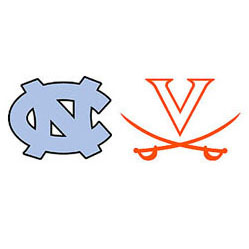 #1 Virginia and #11 North Carolina played once this season, way back on Jan. 6, an eternity ago in basketball time. How long ago was it?
For starters, De'Andre Hunter was two games removed from having played just six minutes in UVA's ACC-opening 59-58 win over Boston College. Hunter had 10 points in 18 minutes in the 61-49 win over UNC, and went on to be named the ACC Sixth Man of the Year, averaging 10.8 points per game in ACC play.
On the Carolina side, Cameron Johnson was still getting his legs back under him after missing the Heels' first 11 games recovering from a torn meniscus in his left knee. Johnson, a 6'8" sharpshooter, played 23 minutes off the bench in the loss at Virginia, scoring five points on 1-of-3 shooting.
Now Johnson is UNC's third-leading scorer, averaging 13.0 points per game, shooting 42.8 percent from the floor and 34.6 percent from three-point range.
So in one sense, you can throw the game tape out from that one, because these two teams are so, so different than they were two months ago.
Looking back to it for whatever guidance it can provide, now, a few things. UVA defended Luke Maye, who would go on to be named first-team All-ACC, very well. Maye's first shot of the game, at the 15:25 mark of the first half, was blocked by the eventual ACC Defensive Player of the Year, Isaiah Wilkins, and that seemed to set a tone for the day for Maye, who would finish with six points on 2-of-10 shooting from the field in 32 minutes.
With Maye neutralized, Carolina had to get its points the hard way. Joel Berry II scored 17 points, but it took him 17 shots to get there, and the Tar Heels ended up shooting just 29.6 percent on the game, and scored just one point in the final 7:11, missing their last nine shots from the floor.
What UNC did well: rebound, particularly on the offensive glass. The Heels rebounded 48.7 percent of their misses, snaring 19 offensive boards as Virginia, which on the season pulls down 76.3 percent of opponent misses, grabbed just 20 defensive rebounds.
But the board work didn't lead to much in terms of offensive output. Carolina ended up with a modest 12-7 edge in second-chance points, which was more than accounted for by UVA's huge advantage in points off turnovers.
The 'Hoos forced 19 North Carolina turnovers on the Tar Heels' 60 offensive possessions, and turned those TOs into a 25-3 margin in points off turnovers.
That could be a matter for concern for a UNC team that had 13 turnovers in its 74-69 win over Duke last night in the ACC Tournament semifinals, six of those coming in the final 5:33, helping fuel a 13-0 Duke run that cut a 16-point Carolina lead to three in the final minute.
Keys to the Game: Virginia
The battle in the paint: Virginia outscored Louisville (42-16) and Clemson (26-14) in the points in the paint category in their first two ACC Tournament games. North Carolina is always a tall order. The Heels may not have the dominant back-to-the-basket guy of teams of recent vintage, but they did outscore Duke 34-32 in the paint last night.
Clean the windows: UNC had 18 offensive rebounds in the win over Duke last night. It's easier said than done, but keeping Carolina off the glass will be a first-order priority.
Lock in early: North Carolina is playing its fourth game in four nights. A solid start for the 'Hoos can set a good tone for a team that is at its best in possession-by-possession basketball. Get the Heels behind the 8-ball early, and the game could play out like the January game in JPJ.
Story by Chris Graham