Game Preview: #1 Virginia looks faces Georgia Tech in ACC return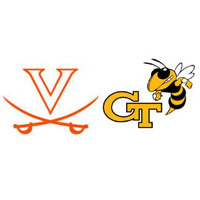 In past years, Virginia coach Tony Bennett would schedule a non-conference game on the open date in the ACC schedule basically to maintain the pace and rhythm of the season at a consistent level.
This year, Bennett left the hole in the schedule given to him by the ACC schedule-makers, and it couldn't have come at a better time.
The top-ranked 'Hoos (24-2, 13-1 ACC) were on the road for six of their last nine, and went an impressive 8-1 in that stretch, the lone loss being a one-point overtime setback to Virginia Tech.
But the minutes were adding up on the eight-man rotation, particularly in the backcourt, with the absence of Nigel Johnson for three games due to a team suspension.
The break, then, gave the guys a chance to take a day or two off, get caught up on their classwork, get their legs back under them, and prepare for the stretch run, which begins Wednesday night at home against Georgia Tech (11-16, 4-10 ACC).
The Yellow Jackets were the first game in the nine-game hell stretch for UVA, which won 64-48 in Atlanta on Jan. 18. Georgia Tech was 3-1 in the ACC when it took the floor that night, and has lost nine of 10 since, the last four losses by double-figures.
Center Ben Lammers (11.0 ppg, 8.4 rebs/g) has been noticeably dormant in that recent rough patch for Tech, averaging 7.0 points and 4.3 rebounds per game over the last four, and shooting just 40 percent from the field.
Lammers had just four points on 1-of-5 shooting and six rebounds in the loss on Jan. 18, though he did record six blocked shots, all in the first half, as Virginia struggled to attack Georgia Tech's zone defense.
But that was back when the Ramblin' Wreck was playing solid D, coming in on a four-game winning streak in which the team had given up just .905 points per possession, in wins over Miami, Yale, Notre Dame and Pitt.
Over the last four, losses to Louisville, Duke, Wake Forest and Virginia Tech, Georgia Tech was giving up 1.15 points per possession, as reports swirl that the program may be about to cut ties with coach Josh Pastner, and rumors that his players have basically given up on him with an eye to the future.
Keys to the Game: Virginia
Shake off the rust: Getting eight days off at this point in a season is very much a good thing in terms of having time to let nagging injuries heal and get legs back and the rest, but there will be an awkward feeling-out period for a few minutes in the first half Wednesday night, no doubt.
Attack: Lammers, mentioned above, owned the paint in the first 20 minutes in the January game in Atlanta. Virginia needs to adjust to Lammers, sure, but that adjustment can't be to shoot a bunch of jumpers. Attack Lammers, attack the paint, attack the rim.
Spread the wealth: Bennett needs to manage minutes for his starters better than he has been of late. With an eye to March, Bennett needs to find a happy place for Johnson, Marco Anthony, maybe even figure out if Jay Huff can be a help down the stretch.
Story by Chris Graham