Game Preview: #1 Virginia faces motivated Notre Dame in ACC regular-season finale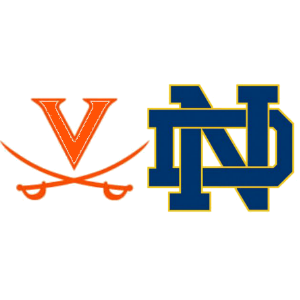 Virginia is 16-1 in ACC regular-season play for the third time in five seasons. The first two times, #17 proved elusive, with the 'Hoos losing in overtime at Maryland in 2014 and on a final-seconds jumper at Louisville in 2015.
Will the third time be a charm Saturday?
The top-ranked Cavaliers (27-2, 16-1 ACC) come in off the high of the miracle comeback win at Louisville Thursday night, rallying from four down with nine-tenths of a second left to win 67-66.
It will be a quick turnaround, obviously, with the team plane getting back to the airport after midnight, a day to rest and recuperate, and get ready for a team that it has not seen all season, but this is a good thing in terms of getting ready for March Madness, because the time frame mirrors the turnaround that you will have to make from one round to the next in the NCAA Tournament.
And Notre Dame (18-12, 8-9 ACC) is making its case to be an NCAA Tourney team in its own right, winning five of its last seven to play its way toward the tourney bubble, after enduring a litany of injuries to top players, including preseason ACC Player of the Year Bonzie Colson, who missed 15 games after breaking his left foot in practice in early January.
Before the injury, Colson was averaging 21.4 points and 10.4 rebounds per game, and Notre Dame spent some time earlier in the season in the Top 10 in the national polls when at full strength.
Colson returned on Wednesday for the Irish's 73-56 win at Pitt, and put up nice numbers in a game in which he had been expected to focus just on getting his legs back under him, scoring 12 points on 6-of-8 shooting and pulling down nine rebounds in 21 minutes.
Granted, it was just Pitt, but Notre Dame looked something like the team that we'd thought we were going to be getting when the season started, scoring 1.14 points per possession and holding the Panthers to 33.3 percent shooting.
Colson's return makes senior point guard Matt Farrell (17.1 ppg, 44.2% FG, 41.5% 3FG) and sophomore two-guard TJ Gibbs (15.9 ppg, 41.9% FG, 41.3% 3FG) that much more effective.
Forward Martinas Geben, a 6'10" senior, stepped up big-time in Colson's absence, averaging 11.1 points per game and 8.1 rebounds per game while shooting 60 percent from the field, providing size and bulk in what is otherwise a smallish rotation.
There is the issue of just adjusting to the return of Colson, who was out for eight weeks, but then, Notre Dame doesn't have time to try to reacclimate. ESPN bracketologist Joe Lunardi has the Irish on his list of the "next four out," meaning … yeah, there's some serious motivation for Saturday, to get a win on the road at #1.
Do that, you're back to .500 in the ACC, after playing most of the conference schedule without your best player.
You're in as far as I'm concerned with a win, is what I'm saying.
This third shot at #17 will be as difficult as the other two.
Keys to the Game: Virginia
Attack the paint: Notre Dame is just average defensively, giving up 1.065 points per possession in conference play, and the lack of size in the rotation is what you need to try to exploit. The guards need to try to get the ball into the lane for kickouts and dump downs for the bigs.
Manage Colson: Colson burned Virginia last season, scoring 20 points on 8-of-9 shooting in a January loss and then going for 21 in the win in the ACC Tournament. You want to expect him to get around 20 minutes again as he still works to get his legs under him, but don't be surprised to see coach Mike Brey try to extend him if he's on his game on Saturday. So, don't let him get on his game.
Come down off the cloud: The big comeback win is past history. As hard as it might be, the UVA kids need to put it behind them and focus on Saturday. And it will be hard.
Story by Chris Graham