Game Notes: No. 10 Virginia hosts Miami in ACC weekend series
The No. 10 Virginia baseball team returns to action this weekend following a nine-day break for final exams as the Cavaliers entertain Miami in a three-game series at Davenport Field.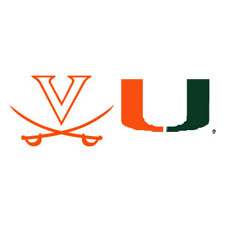 The penultimate series of the regular season consists of games at 6 p.m. Friday, 4 p.m. Saturday and 1 p.m. Sunday.
VIRGINIA CAVALIERS (36-11, 14-10 ACC)
Probable Starting Rotation
Fri. – So. LHP Daniel Lynch (6-2, 5.11 ERA)
Sat. – Fr. RHP Noah Murdock (3-1, 2.50 ERA)
Sun. – Jr. LHP Adam Haseley (7-1, 3.58 ERA)
MIAMI HURRICANES (24-24, 12-11 ACC)
Probable Starting Rotation
Fri. – Jr. LHP Jeb Bargfeldt (5-3, 2.45 ERA)
Sat. – Fr. RHP Greg Veliz (4-3, 2.74 ERA)
Sun. – Jr. RHP Jesse Lepore (1-5, 4.98 ERA)
Broadcast Information
The series airs on ACC Network Extra, which is available to authenticated subscribers of ESPN3 through WatchESPN and the ESPN app. WINA 1070-AM/98.9-FM has the radio broadcast for the series, with online links available at VirginiaSports.com and WINA.com. Links to live statistics also can be found on VirginiaSports.com.
Weekend Promotions
Friday
• Virginia Baseball All-Time Team Poster giveaway to the first 500 fans in attendance
• Trading Cards Set No. 5
Saturday
• Military Appreciation Day
• Mini bat giveaway to the first 1,250 fans in attendance
• Equipment sale – UVA athletics equipment staff will be selling game-worn UVA Baseball uniforms and helmets before the game. Uniforms are $50 and helmets are $35.
Sunday
• Senior Day ceremonies will be held prior to the game at 12:45 p.m., with UVA honoring Alec Bettinger, Robbie Coman, Jack Roberts, Tyler Shambora and student manager Ben Cassillo
• Mother's Day – flower giveaway for the first 500 mothers in attendance
• ACC Family Day – post-game autographs and running of the bases
Things to Know
• Virginia ranks fourth nationally in batting (.327), 10th in OBP (.410) and 12th in hits (538).
• UVA boasts four players among the ACC's top 10 in batting.
• UVA has stolen an ACC-best 73 bases, its most steals since swiping 90 in 2011.
• Named one of nine semifinalists for the John Olerud Two-Way Player of the Year Award on Thursday, Adam Haseley is on a 13-game hit streak and has reached base in 45 of 46 games, including 28 straight.
• Jake McCarthy is batting .387 (12-31) with six extra-base hits in his last 10 games.
• Charlie Cody (7-15), Justin Novak (4-9) and Robbie Coman (10-24) are UVA's top returning hitters against Miami.
The Basics
The Cavaliers are ranked as high as eighth nationally this week in the NCBWA poll; UVA is 10th in the USA Today Coaches poll. UVA leads the ACC in batting at .327, which ranks fourth nationally. The Cavaliers rank sixth in the ACC in ERA (3.92), fourth in fielding (.974) and second in stolen bases (73).
Prior to the Hiatus …
Virginia was playing some of its best baseball of the season when it went into the nine-day break for final exams. UVA went 16-4 over its previous 20 games, including a 15-4 mark in April. The Cavaliers won four straight ACC series in that stretch, including taking two of three at Florida State from April 28-30.
In the last 20 games, Cameron Simmons batted .447 (34-76), racking up a team-high in hits while ripping four homers and driving in 24 runs. Pavin Smith (.416, 3 HR, 28 RBI), Adam Haseley (.390, 4 HR, 22 RBI), Caleb Knight (.386) and Jake McCarthy (.386) also were strong in that stretch.
Virginia Returns to Field Against Miami
Virginia leads the all-time series, 26-24, and has won seven straight series against the Hurricanes. UVA took two of three from then-No. 1 Miami last season in Coral Gables. Miami's last series win against the Cavaliers came in 2009 in Charlottesville. Since 2010, UVA is 17-7 against Miami. Head coach Brian O'Connor is 23-19 against the Hurricanes.
Noting Miami
Miami stepped out of ACC play last weekend, taking two of three at home against Bethune-Cookman. The Hurricanes lost 5-2 to UCF at home on Wednesday night. Romy Gonzalez leads the team in batting (.271), homers (10) and RBI (32), while the Hurricanes are batting .223 overall. Miami ranks 14th in the ACC in batting, fifth in ERA (.381) and 12th in fielding (.968).
Up Next
Virginia plays its final home game of the regular season at 6 p.m. Tuesday (May 16) against Richmond before heading to Georgia Tech Thursday through Saturday (May 18-20) for a three-game series to mark the end of regular-season play.
Comments