Game Notes: #24 Virginia travels to Miami for ACC weekend series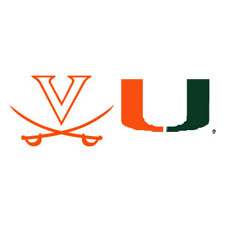 No. 24 Virginia (13-7, 3-3 ACC) will begin a three-game Atlantic Coast Conference series at Miami (9-11, 3-3 ACC) on Friday (March 23) at 7.p.m. Game two on Saturday (March 24) is also slated for a 7 p.m. start while the finale on Sunday (March 25) will commence at 1 p.m.
Game Coverage
All three games of the series will be carried live on ACC Network Extra, a dedicated digital channel for ACC sports which is available to authenticated subscribers of ESPN3 through WatchESPN and the ESPN app at no additional charge.
In addition, the entire series can be heard live on WINA 1070/98.9 and WINA.com. Links for live stats feeds are available on VirginiaSports.com and fans can also follow in-game updates on the team's official twitter page (@UVABaseball).
Probable Pitching Matchups
Friday  
Virginia: RHP Derek Casey (2-2, 4.09 ERA, 33.0 IP, 9 BB, 48 SO)
Miami: LHP Jeb Bargfeldt (2-2, 3.09 ERA, 32.0 IP, 7 BB, 20 SO)
Saturday
Virginia: LHP Daniel Lynch (2-2, 3.58 ERA, 32.2 IP, 9 BB, 35 SO)
Miami: RHP Evan McKendry (3-2, 2.54 ERA, 28.1 IP, 9 BB, 43 SO)
Sunday
Virginia: RHP Evan Sperling (2-0, 3.04 ERA, 26.2 IP, 12 BB, 40 SO)
Miami: RHP Andrew Cabezas (1-2, 3.79 ERA, 19.0 IP, 14 BB, 20 SO)
Leading off
Friday

night's contest will be the first game of the week for the Cavaliers after a pair of midweek games were cancelled due to inclement weather.
Virginia and Miami will meet for the 54th time

on Friday

night, the Cavaliers lead the all-time series 28-25.
The Cavaliers and Hurricanes have met in a three-game series every year since 2001.
Under Brian O'Connor, Virginia is 26-20 against Miami and 12-9 in Coral Gables.
The Cavaliers have won four of the last six meetings against the Hurricanes, including two in a series victory last season in Charlottesville.
Virginia has won eight-straight series against Miami and have not dropped a three-game set since 2009.
Last Time vs. the Hurricanes
In the 2017 weekend series in Charlottesville, the Cavaliers and Hurricanes split a

Saturday

doubleheader before Virginia claimed the series with a 7-4 victory 

on Sunday

.
After Miami tied the game in the top of the eighth of the series finale, Virginia rallied for four runs in the bottom half of the frame. Starting pitcher Derek Casey allowed two runs over 4.1 innings pitched before giving way to Bennett Sousa. The left-hander did not allow an earned run in 2.2 innings of work.
Comeback Kids
Two of the three wins last week came in walk-off fashion, including a series-clinching 10-inning victory over Boston College

on Sunday

(March 18).
Of its 13 wins in 2018, Virginia has come-from-behind to win in six of them and four by way of the walk-off.
Charlie Cody has been at the plate for two of Virginia's walk-off wins this season. His sacrifice fly

on Sunday

plated Justin Novak to clinch the series against BC and his single in the first game a doubleheader against Yale on March 3 brought home Andy Weber in a 5-4 win.
Virginia has now played three extra-inning games this season including the finales of both the Duke and BC series.
Conference/National Ranks
Despite a 3-1 week, Virginia dropped three spots in the USA Today Coaches Poll to No. 24 but held steady at No. 22 in D1Baseball.com's Top 25.
After being plunked twice in the Boston College series, Caleb Knight is now tied for 22nd in the country with nine hit by pitches. He has been hit 20 times since coming to Virginia prior to the 2017 season.
Virginia pitchers have struck out 11.1 batters per nine innings pitched, the fifth highest ratio in the country. The Cavaliers have struck out a total of 226 batters the most in the ACC.
The Cavaliers are tied for third in the ACC with a .284 team batting average
Player Notes/Trends
Andy Weber went 7-for-14 with two doubles, a triple and three RBIs in the three-game series against Boston College. His 29 hits on the season are the eighth most in the ACC.
Nate Eikhoff hit his second home run of the season

on Sunday

and in the process extended his hit streak to 15 games. He ended up walking four times in 

Sunday's

 game has reached safely in all 20 games in 2018.
Coming on as a defensive replacement in the series finale against Boston College, freshman Brendan Rivoli delivered at the plate a two-RBI double in the seventh inning to pull Virginia within a run. The at bat was the first of the series and first of the week for Rivoli.
Freshman reliever Andrew Abbott tossed a total 3.2 innings in two games against Boston College. He earned his third save of the season

on Saturday

(March 17) and struck out five batters in his second win of the year 

on Sunday

 (March 18).