FredNats use long ball to sweep Delmarva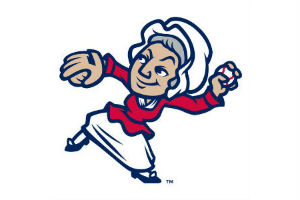 The FredNats trailed the Delmarva Shorebirds 2-1 going into the bottom of the seventh inning in the series finale today at Virginia Credit Union.
Approximately 45 minutes and four home runs later, the FredNats were celebrating their first sweep of the season with a 10-2 final over the Delmarva Shorebirds. The FredNats sweep the series and extend their season-long winning streak to seven games.
Jackson Rutledge put together his second quality start of the series, pitching six innings, allowing seven hits and two earned runs with six strikeouts. Rutledge has now allowed just two earned runs in his last 19 innings pitched at home.
In the seventh inning with the FredNats down 2-1, Andry Arias blasted his third home run of the season to score J.T. Arruda and put the team up 3-2. Two batters later, Viandel Peña ripped his fifth homer of the year to about the same spot in right field, and it was 4-2 after seven innings.
In the eighth, the floodgates opened. Leandro Emiliani became the second FredNat to double digit home runs with his 10th of the year to lead off the inning, and then Peña hit his second in as many innings, a three-run shot to make it 10-2. Arruda and Arias had RBI doubles in-between the two home runs.
Marlon Perez earned the win, and he, Tyler Schoff and Riggs Threadgill each pitched scoreless innings out of the FredNat bullpen.
The FredNats will turn around quickly and start a new series with the Lynchburg Hillcats tomorrow at home on the 4th of July. LHP Dustin Saenz will start, and first pitch is scheduled for 4:35 p.m.