Top News
Frank Breeden joins PavCon as project manager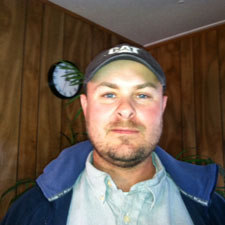 PavCon Group, a contractor with decades of experience as a paving specialist for clients in the Shenandoah Valley, announced today that Frank Breeden has joined its team as a project manager.
Breeden comes to PavCon from A&J Development in Harrisonburg, where he had served as a project manager and estimator for more than three years.
"We are thrilled to be able to add someone with Frank's expertise to our staff here at PavCon," said Jonathan Harrison, the general manger at PavCon Group, which has offices in Harrisonburg and Lexington.
A native of Rockingham County, Breeden is a 1994 graduate of Turner Ashby High School and a graduate of Central New Mexico Community College.
Breeden is also a United States Navy veteran.
Breeden has been working in the construction industry since 1999 as an equipment operator, foreman, superintendent, estimator and project manager.
About PavCon Group
PavCon Group's services include asphalt paving, pervious concrete, decorative concrete and concrete paving.
For more information about PavCon, go online to www.PavConVa.com.